Up to nine private jets belonging to Qatar's royal family have made an emergency trip to Switzerland after the country's former ruler broke his leg while on holiday. Sheikh Hamad bin Khalifa al-Thani is understood to have been vacationing in Morocco's Atlas Mountains when he suffered the injury.
Swiss civil aviation authorities confirmed that a number of planes from the Qatari royal fleet made unscheduled landings at Zurich-Kloten airport late on Christmas Day. Swiss foreign ministry spokesman Georg Farago later said that officials had been informed about the "stay of members of Qatar's royal family in Switzerland", but did not provide further details.
According to a Qatari government statement, Thani – who is formally known as the "Father Emir" – underwent emergency treatment on his leg upon arrival in Switzerland. "Following a successful operation, his Highness the Father Emir is currently in Zurich recovering and undergoing physiotherapy treatment," the statement read.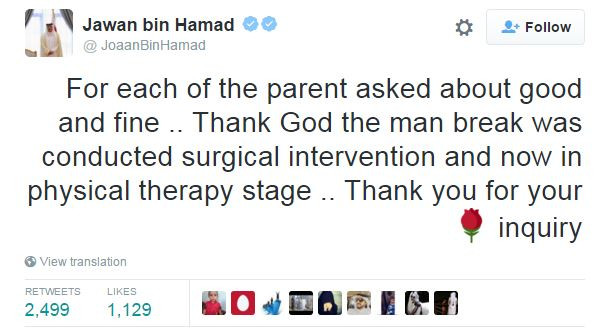 Thani, who turns 64 on New Year's Day, was the ruler of Qatar from 1995 to 2013 – a period that saw the country become one of the wealthiest in the world. He stepped down in June 2013, handing over power to his son – Qatar's 35-year-old current ruler Tamim bin Hamad al-Thani.
Another of Thani's sons took to Twitter last night to thank those worried about the his father. "For anyone who's asking about [Father Emir], he's good and fine praise God. He broke his leg and had surgery and now is in the physical therapy phase…thank you for your inquiry," Sheikh Joaan bin Hamad wrote, attaching a red rose emoji. .
Thani has been in poor health for a number of years, the Guardian reported. The former leader seized power from his own father Khalifa bin Hamad Al Thani in a bloodless coup in 1995.