Qatar World Cup: Doha rejects Amnesty report that says migrant abuse still 'rampant'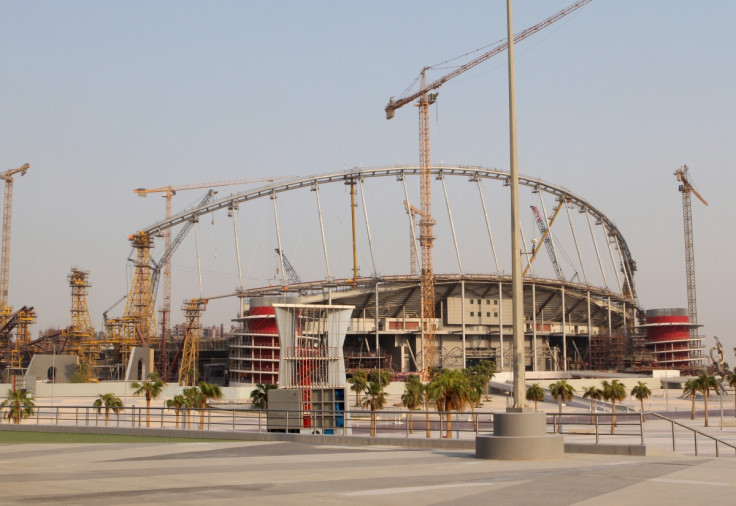 Despite public exposure of conditions faced by Qatar's migrant construction workers, labour exploitation remains 'rampant' in the country, a report has found.
Five years on from winning the right to host the 2022 FIFA World Cup, Amnesty International said that workers faced squalid conditions, many were not paid on time and there was no reform of the kafala system in which workers need their employer's consent to change jobs or leave the country. The Qatari government has rejected the accusations by the human rights' organisation.
Amnesty's Gulf Migrant Rights Researcher Mustafa Qadri interviewed more than 400 workers and he said that the stories he heard applied to many thousands among the 1.7 million migrant workers in the country.
He told IBTimes UK: "We visited a camp where there were 200 workers who had not been paid for several months. They had stopped working and they were on the verge of starvation. They couldn't leave the camp because they didn't have valid ID and so were worried about being detained by police.
"Most were family men with large debts and they were from Nepal, India and Bangladesh. All they were saying was: 'pay me on time, treat me with dignity or let me go.'"
Amnesty accused of having 'no comparative data'
Mr Qadri described how the police were called in and took him and his researchers away, a move which "filled me with a sense of failure or how awful it must be to be stuck in this limbo. We were helpless to change the situation".
Although the Qatari government promised changes to the kafala sponsorship system in May 2014, the organisation criticised that they they will not come into force until the end of 2016. It added that the new system will still require workers to seek their employer's consent to change jobs or leave the country.
However in a statement, the Qatari government said that Amnesty's report did not compare labour conditions with those of other countries 'facing similar challenges'.
It said all employees of private companies in Qatar must now receive their wages electronically via bank transfer within seven days and that new laws make it illegal for companies to withhold workers' passports.
"Qatar fully intends to meet the highest standards with regard to labour but for reasons that are unclear, Amnesty International has provided no comparative data on labour conditions in other countries employing large numbers of guest workers to meet the demands of rapid growth and development.
"Qatar is committed to protecting the workers who are helping us build our nation. Indeed, this is why we welcome feedback and constructive criticism from NGO partners.
"But with regard to Amnesty's most recent statement, we feel that the accusation that Qatar has failed to improve the human rights of its guest workers is simply untrue. Significant reforms have been made and more are in the pipeline," the statement said.
© Copyright IBTimes 2023. All rights reserved.