Forty-five thousand runners took to the streets of Chicago this Sunday to take part in the city's 40th annual marathon. The event remains one of the most high-profile road races in the world, with previous winners including long-distance legend Paula Radcliffe and former Olympic gold medallist Samuel Wanjiru.
The 26.2-mile race is a daunting task for even the most experienced runner. However, few face the challenges posed to one of this year's participants, Alan Robinson.
The 62-year-old athlete was left with severe injuries after a car accident in 1991. Following the crash, doctors warned that he may never be able to walk again: "They actually said when I had my accident that I wasn't gonna live. They told my parents that. They told my mother that if I did live only one side of my body would be able to move,"
Defying their advice, the Chicago-native has not only managed to walk again, but has taken part in 20 marathons since the fateful crash. In 2009, he completed the event in an amazing final time of six hours.
Robinson is a 'walking quadriplegic', which means he still has partial use of his limbs, but needs help from a small team of friends who provide emotional and physical support during races.
"I feel that I can inspire people and if I can talk to people to help them change their ways, it's so wonderful knowing that God is with you, knowing that you have a purpose, knowing that you can inspire somebody that's the most wonderful feeling in the world."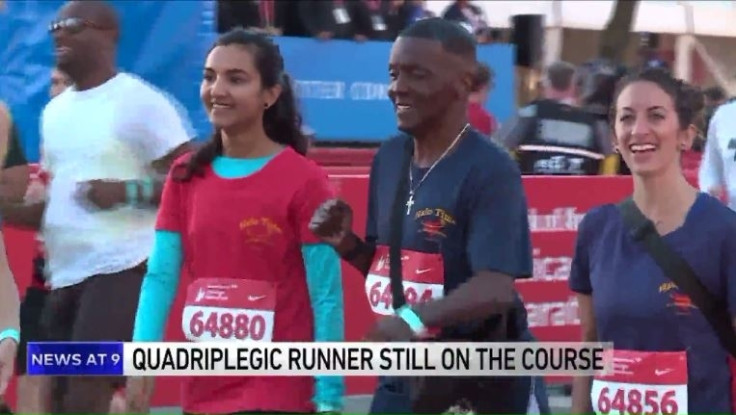 Recent health problems and stiffening limbs has affected his ability to run, so this time around he set a target finishing time of midnight. Local news station WGN TV caught up with him as he continued his progress towards the race finishing line and was still hopeful of meeting his time.
Supporters have taken to social media to congratulate Alan on the perseverance he has shown to overcome his disability.