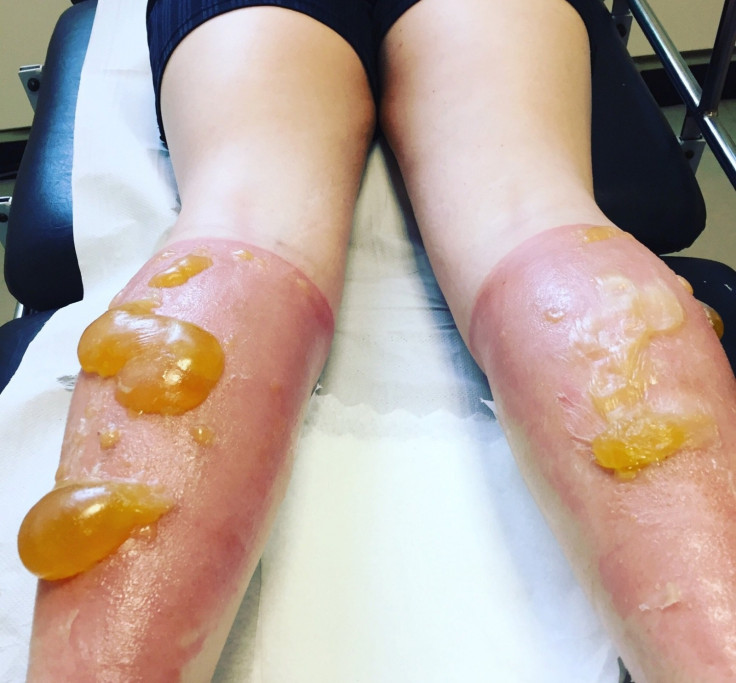 A long-distance runner was left with enormous pus-filled blisters on her legs after suffering severe sunburn during a 69-mile run.
Mother-of-two Julie Nisbet, 34, joined other "ultra" marathon runners in the long-distance coast-to-coast jog along Hadrian's Wall, between Carlisle and Newcastle, on 17 June.
She took 21 hours to become one of just 120 to complete the run, jogging in temperatures of 30 degrees celsius.
Having sweated away her coating of suncream, she noticed small sacs of orange pus on her burnt red calves when she crossed the finishing line.
Nisbet suffered in agony as the unsightly blisters continued to grow in size, prompting her to go to hospital for treatment.
The 11-time marathon runner, who lives in Shildon, County Durham, tweeted a picture of the small balloons of pus-filled blisters as she lay receiving treatment.
She revealed she is now "recovering well" but said her friends and family were shocked when they first saw her injuries – and couldn't believe they were the result of sunburn.
One even suggested the blisters may have been from Giant Hogweed.
"The nurse who saw me never mentioned Hogweed, they just seemed to assume it was sunburn," she told Metro.
"It wasn't until a couple of days ago a friend suggested the blisters could be caused by it. I don't remember coming across any Hogweed, but the last 20 or 30 miles we were running through a forest."
With her legs still in bandages, Nisbet said she had learnt her lesson.
"I will be making sure I reapply my sun cream when I'm running in the future," she said.