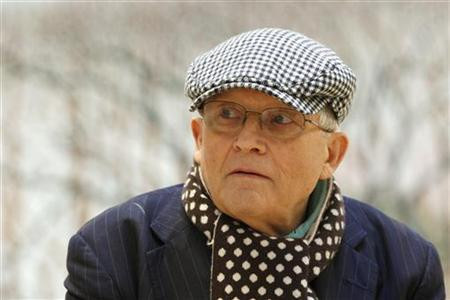 English artist David Hockney has been honoured with the prestigious Order of Merit by the Queen, Buckingham Palace announced on Sunday.
Hockney is known for his major contributions to the pop art movement of the 1960s and is also regarded as one of the most influential British artists of the twentieth century. Over the years, his influence in the art world has extended from paintings to works as a printmaker, photographer, stage designer and a draughtsman.
In 1990, Hockney was offered a knighthood but he declined it at that time. He also recently refused a request to paint a portrait of the Queen saying he was just painting landscapes.
"I do not think life is about prizes. I put them all in the bottom drawer and leave them there. I don't value prizes of any sort. I value my friends. Prizes of any sort are a bit suspect," the Bradford Telegraph had quoted the artist as saying when he refused the knighthood.
Apart from Hockney, others conferred the OM include former Prime Minister of Australia John Howard, British computer scientist and inventor of the World Wide Web Sir Tim Berners-Lee and British playwright Sir Tom Stoppard.
The prestigious Order of Merit is a dynastic order in the country recognising distinguished service in various fields like art, literature, science and the armed forces. The honour was founded by King Edward VII in the year 1902 and is conferred on only 24 living individuals at a given time.