Queen's Diamond Jubilee Celebrations: Preparing The Royal Barge For The Thames Pageant
There is not much time left to bring together the various elements for the celebration of the Queen Elizabeth II's Diamond Jubilee. Understandably then, the preparations are in full swing.
One of the elements of these celebrations will be the gilded sculpture that will decorate the prow of the royal barge - the vessel that will carry the Queen, the Duke of Edinburgh and other members of the royal family - in the Thames Diamond Jubilee Pageant.
The sculpture is being attended to by a number of the country's leading craftsmen and women and will be made of over two tonnes of terracotta clay, be cast in acrylic resin and decorated with 22 carat gold leaf.
The Royal Barge is being designed by Alan Lamb, who is the Head of Historic Carving at City and Guilds of London Art School, along with Emmy Award-winning production designer Joseph Bennett. Lamb said he designed the barge taking inspiration from 17th and 18th century sculptures.
The sculpture, according to the Thames Diamond Jubilee Pageant Web site, will include images of the Royal Cypher, Cornucopias (mythical horns of plenty, spilling over with shells and crabs), two enormous sculptures of Old Father Thames and a pair of two-metre high statues of scaly sharp-toothed classical dolphins.
"The magnificent sculpture that will adorn the front of the Royal Barge will truly be a thing of beauty. We're delighted to have been able to tap into the vision and expertise of some of Britain's highly skilled craftspeople and it has really been a privilege to work with them. The Royal Barge will be the jewel in the crown of the river pageant and with the eyes of the world upon it, it's a chance for us to display just what Britain and its artisans can achieve," Bennett said.
"We want to produce a work of art worthy of the occasion but also something that people will find interesting and entertaining as well as majestic. While still based on traditional images, the dolphins and other sea creatures should appeal to children's (and adults') sense of fun, while Old Father Thames and Britannia lend the grandeur that the sculpture needs to perform its ceremonial function," Lamb added.
Rowing boats and vessels will also take part in the celebrations, along with representatives from the Armed Forces, the Fire Service, the Police and other services. The event will be open to the public too, as passenger boats are scheduled to carry up to 30,000 people.
Check out photographs of the Royal Barge preparations below: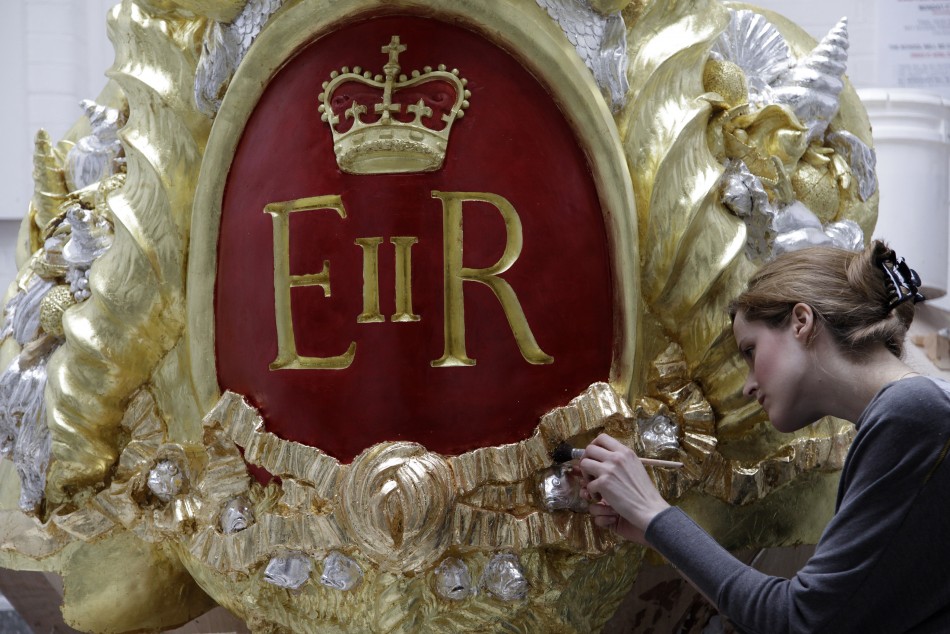 © Copyright IBTimes 2023. All rights reserved.