They are two of the world's most stylish sovereigns, so it was a truly magical moment for royal watchers when Jordan's Queen Rania welcomed Queen Mathilde of Belgium to her country with a warm embrace.
As Queen Mathilde, 43, continues her week-long humanitarian tour of the Middle East today (24 October), she arrived in the Jordan capital of Amman where she spent time with Queen Rania. The pair warmly embraced with huge smiles across their faces as they showcased their vibrantly-coloured outfits for the daytime engagement.
Mathilde – who is known for her distinguished and feminine sartorial choices – showed her support for local craftswomen by sporting a pleated red and white floral skirt thought to have been designed and made by Jordanian artisans. She teamed the autumnal piece with a red chiffon blouse and a matching pair of red suede stilettos to complete the colour-coordinated look.
Queen Rania, meanwhile, also went for a bold outfit by opting for a bright orange high-neck dress featuring statement oversized sleeves which she paired with strappy metallic stilettos by Jimmy Choo. The royals then began a tour of the Jordan River Foundation headquarters. Rania, 46, is patron of the charity.
There was a rare unspoken moment between the two queens as they appeared to get on like a house on fire, chatting away as they beheld art and fabrics being created by locals before touring a boutique-style showroom.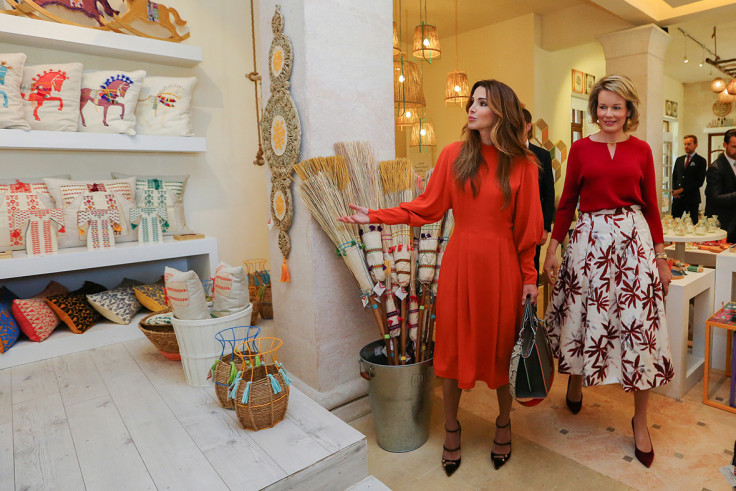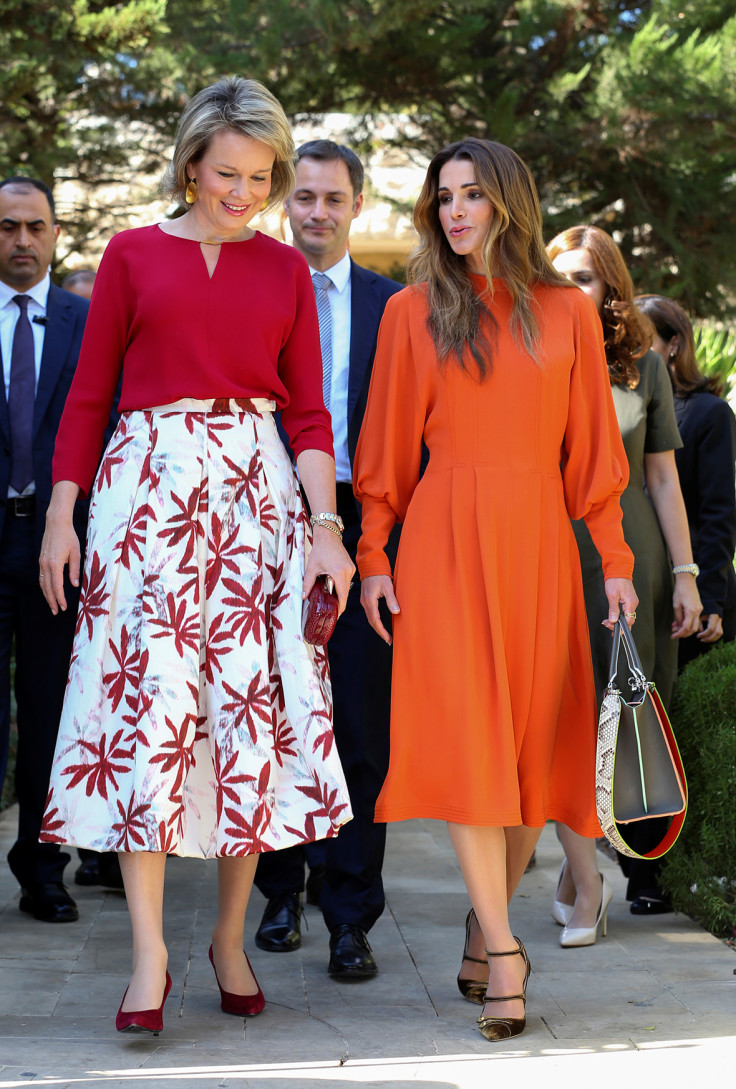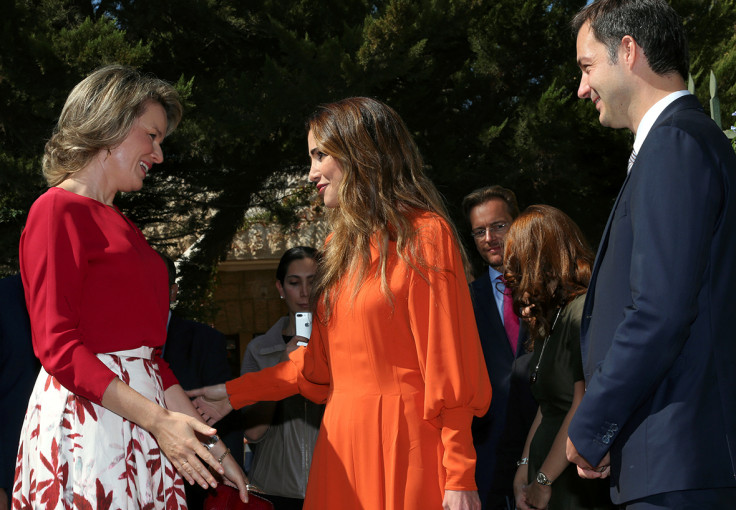 Yesterday (24 October), Queen Mathilde visited Jordan's biggest refugee camp, Al Zaatari in Mafraq, which is near the Syrian border. She met patients at the UNICEF Makani Centre on her tour around the camp, which is home to 80,000 people.
The two monarchs – who must have had a great deal to talk about as queens with four children each, – have appeared to form a close relationship over the past year. Rania visited Belgium back in May to raise awareness about the Syrian refugee crisis, and Mathilde expressed her zealousness to experience the situation first hand, prompting this week's visit to the Middle East.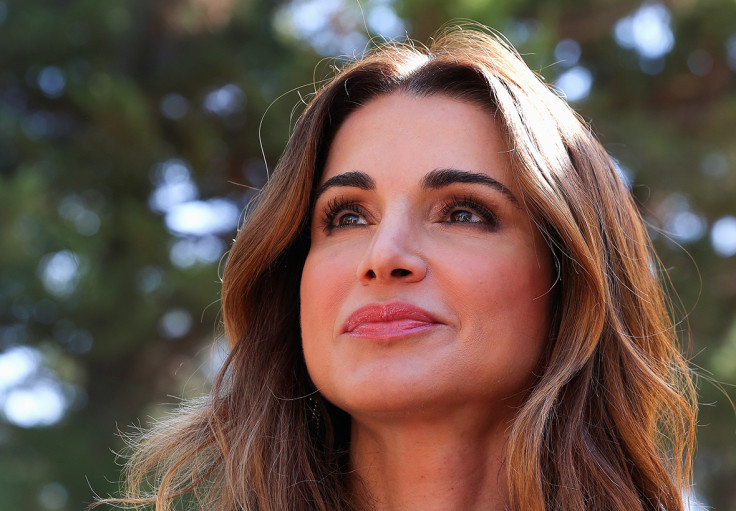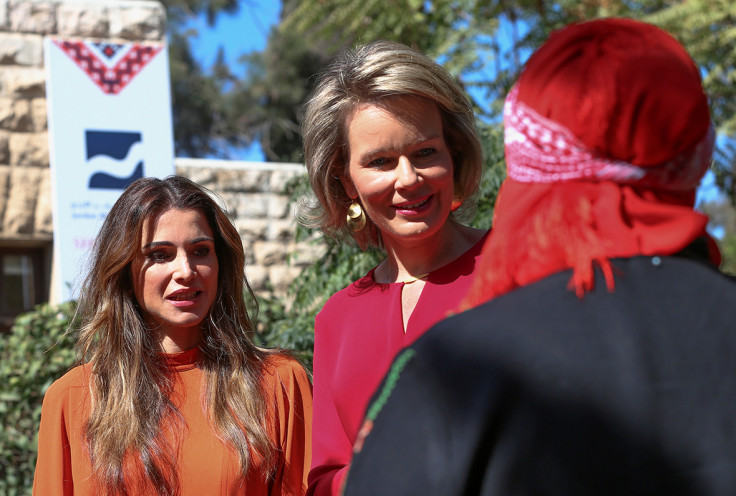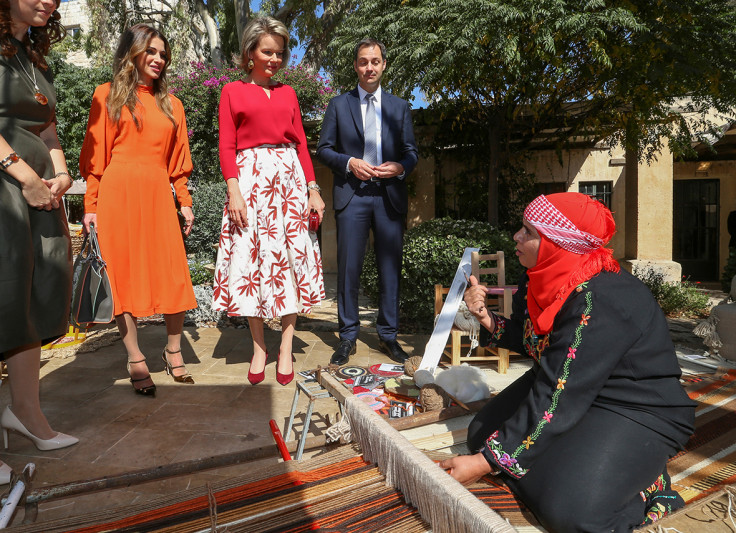 The Belgian royal court issued a statement from the queen this morning, praising Jordan's humanitarian efforts.
Queen Mathilde of Belgium's statement
"From Jordan where I am currently on a humanitarian mission, I wish everyone a happy United Nations (UN) Day. I specially thank the many UN workers for their permanent engagement.
As an advocate of the UN Sustainable Development Goals, I can see how big the humanitarian needs are in Jordan and I recognise the enormous efforts made by Jordan in order to receive refugees from the region.
All refugee children need access to education and good healthcare. Many children who fled the war in Syria are in need of psychological care. This is why I am asking that a special attention be given to education and healthcare of refugees and to their mental well-being in particular.
I praise all humanitarian workers for their daily engagement that does not go without risks. I also thank the Jordan volunteers and families who give these vulnerable persons a home. My presence on the field is a way of giving these persons a face and a voice."