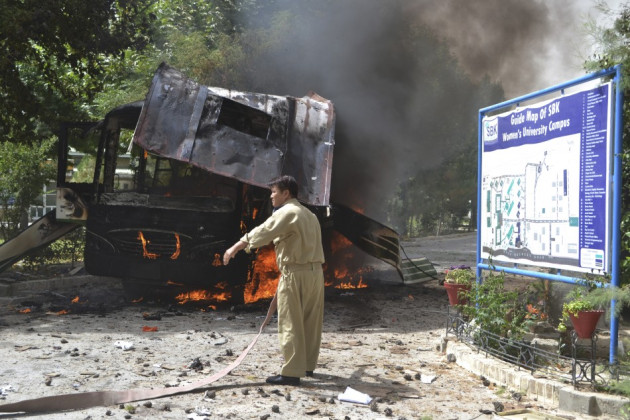 Militants in western Pakistan have killed at least 21 people, first blowing up a bus full of female university students and then attacking the hospital where victims were being treated.
Security forces are still battling the militants, who are defending positions in the Bolan Medical Complex in Quetta in the capital of Baluchistan province. The militants have killed unkown numbers of staff, officials and members of the public.
Earlier, 11 students were killed in the bus blast, which occurred on the campus of a university for women.
Those killed at the hospital included a senior government official, Abdul Mansoor Khan, three security officials and a nurse, said Jan Mohammed Bulaidi, spokesman for Baluchistan's new chief minister, who took office only last Sunday.
The city's nursing federation said three more nurses and two family members of the student victims also died.
"They are several in number, we are still facing resistance from them, and people are stranded inside the hospital. We are trying our best to rescue the people," Bulaidi told Reuters, with witnesses reporting the sound of automatic gunfire and explosions from within the hospital.
Quetta Police Chief Mir Zubair told the BBC that suicide bombers were involved in the attack, and that one had blown himself up during the stand-off with security forces.
Lashkar-e-Jhangvi (LEJ), a militant group dedicated to attacking Pakistan's Shi'ite Muslim minority, the Hazaras, has told the BBC it is responsible for the attacks, which were carried out in revenge for a security forces operation in which a woman and children were killed.
Earlier, in a bomb attack in the Ziarat area of Balochistan, a house once used by Pakistan's founding father Muhammad Ali Jinnah was damaged and a policeman killed.
Quetta has become a crucible of sectarian violence in recent months, with both separatist and Islamist groups involved in attacks.
In February, a bomb blast targeting the Hazaras killed 84 people and injured 200.