A former nail salon owner has been crowned the 2016 World Series of Poker champion following the longest head-to-head match in tournament history.
Qui Nguyen, 39, defeated professional poker player Gordon Vayo to claim the $8m (£6.5m) prize and a diamond-encrusted gold bracelet after playing for 182 hands during the eight-hour face-off against his opponent.
Nguyen, a complete unknown before the tournament beat 6,737 other competitors in the $10,000 No-Limit Hold 'Em Main Event. He soon became a popular figure during the competition because of his aggressive style and his trademark Guardians of the Galaxy raccoon baseball cap.
The 39-year-old, who is known to prefer playing baccarat to poker, eventually beat Vayo in the decisive game after his opponent gambled all with his final $40m.
Nguyen was then dealt a king and 10 of clubs against Vayo's jack and 10 of spades.
And the flop then produced a king of diamonds, a nine of clubs and a seven of diamonds. After the turn and river only produced a two of spades and a three of hearts, Nguyen was declared the winner with his pair of kings.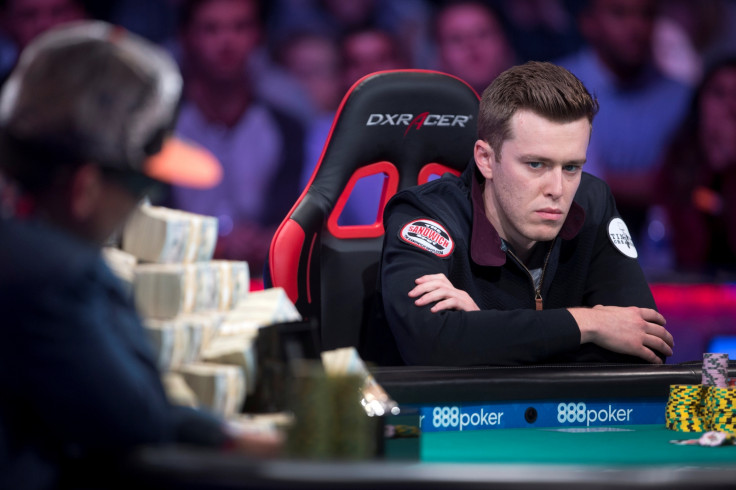 Vayo earned more than $4.6m for coming second. The 182-hand battle between Vayo and Nguyen was the longest since the event switched to the current format in which the remaining nine players compete on live television. All in all, the final saw a total of 365 hands played at the table.
Following his victory, Nguyen told ABC News: "I actually never played much heads-up, but I was very aggressive. Whether it was five-handed or two-handed, I was still [just as] aggressive."
"With millions of dollars [on the line], I didn't think a lot about winning and losing," Nguyen said. "I was just thinking in my mind 'don't make a misstep at all'. In a tournament, you can't make a misstep - if you make a misstep, you're done."