The rabbi at a modern Orthodox Kesher Israel synagogue in Georgetown, Washington DC, has allegedly captured at least six undressed women on camera as they took a ritual Jewish cleansing bath.
Rabbi Barry Freundel, 62, was arrested this week and charged with voyeurism, according to a complaint filed in the DC Superior Court.
The orthodox Jewish community in the area have expressed outrage at the breach of privacy, which took place as the women changed and prepared before the mikvah ritual. The practice follows Talmudic teachings, where women and occasionally men, immerse themselves in water for purification.
Sasha Kesler, a 24-year-old Orthodox woman who lives in Manhattan told IBTimes US: "It felt like every woman who has ever gone through the mikvah had been personally violated."
Freundel allegedly recorded women in the ritual bath by hiding a camera inside a digital clock. He has been accused of uploading the videos of six women on to his home computers but has pleaded not guilty.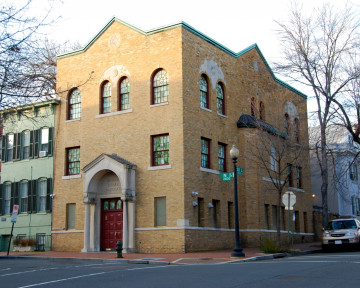 Other allegations have emerged since his arrest, including alleged abuses of power with female converts, who he reportedly made perform clerical work.
The Washington Post reported that Freundel forced the women to donate to a tribunal he had led.
"The story freaked us all out," said Allison Josephs, an orthodox Jewish woman who runs the blog Jew in the City, told IBTimes US. "Sometimes one bad person can ruin things for the rest of us."
Several biblical regulations specify that full immersion in water is required to regain ritual purity after impure incidents have occurred. The process normally begins before a woman is married and takes place every month, seven days after menstruation ends.
Mikvah is also practiced after childbirth and is used in the conversion process to Judaism.
The complaint against Freundel states someone associated with the mikvah told police that they had witnessed the rabbi plugging in and setting up a recording device.
Freundel has worked at the prominent synagogue since 1989 and is a highly regarded rabbi in the region. Kesher Israel has since stated it has suspended Freundel without pay and is cooperating with law enforcement officials.
"Ultimately this is about the abuse of power," Rabbi Jeffrey Fox, who heads Yeshivat Maharat in New York, the first yeshiva to ordain women as Orthodox clergy, told IBTimes US.
"The change I hope emerges has to address the question of how we structure our communities in a bigger sense."
He added that a structure is need to help women and converts report issues of misconduct.