Atletico Madrid striker Radamel Falcao says he is a big fan of Chelsea legend Gianfranco Zola.
The Columbian international has been linked with a move to Stamford Bridge, with The Blues' struggling forwards Fernando Torres and Daniel Sturridge yet to hit their straps this season.
And Falcao, a scorer of 13 goals in all competitions this term, has already endeared himself to the Chelsea faithful by declaring his admiration for one of the club's finest ever players.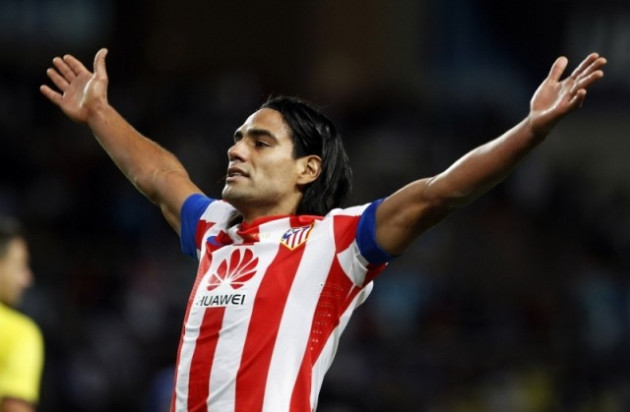 "Chelsea are champions of Europe and there is not much more to say than that," Falcao said.
"Even after winning the Champions League they still go and sign players of the highest quality. Their ambition is clear.
"I was also a big fan of Gianfranco Zola when I was growing up."
Zola, a scorer of 80 goals in 312 games for Chelsea, was voted the club's greatest ever player in 2003, while his No.25 shirt has been unofficially retired in recognition of his achievements in west London.
With Torres and Sturridge yet to find their best form in front of goal ahead of Chelsea's attacking trio of Juan Mata, Eden Hazard and Oscar, the club have been linked with a move for Falcao in the January transfer window.
The Ballon d'Or nominee is among Europe's most potent strikers and Chelsea defender David Luiz believes the 26 year old would make the perfect addition to the Champions League holders' squad.
"He would fit perfectly in to the squad," Luiz said.
"We would all be happy (if he signed) because Falcao would undoubtedly a great player for our team. He is very difficult to stop. He is an excellent striker."
While the club's inferior standing in European football means they're often victims of bully-tactics from bigger clubs, Atletico's financial position means they're in no position to reject substancial bids from rival clubs. The club had prize money withheld by Uefa in September after late tax and transfer payments.
Manager Diego Simeone appears consigned to losing Falcao.
"Whatever happens to him makes me happy, because I've known him since he was a kid," the Argentine said.
"I spoke to him before the Athletic Bilbao game. It is possible that he could leave and it is perfectly normal that the best players in the world have the chance to move when the league finishes. He deserves all the good things that happen to him".