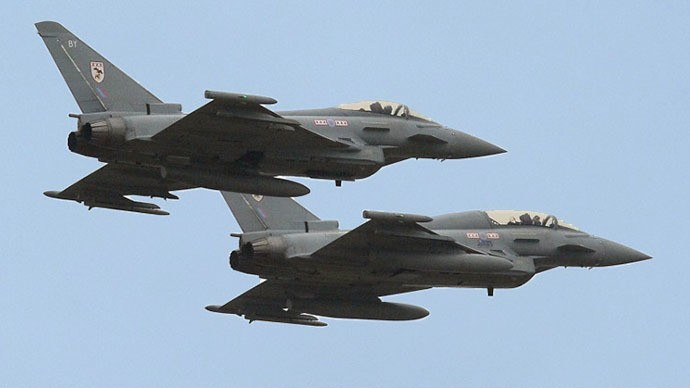 RAF Typhoon fighter jets were scrambled to intercept two Russian bombers encroaching on British airspace, the Ministry of Defence has confirmed. The fighter jets took off from RAF Lossiemouth on Thursday (19 November) night.
The Russian planes did not enter UK airspace but strayed near enough to the edge of international airspace to be in what is known as a "British area of interest" Sky News reports.
A spokesman for the Ministry of Defence said: "Typhoon aircraft went up from RAF Lossiemouth to intercept two Russian Tu-160 aircraft flying in Britain's area of interest in international airspace over the Atlantic and remained with them until they left the area."
"RAF Quick Reaction Alert Typhoon fighter aircraft were launched overnight from RAF Lossiemouth on a NATO air policing mission after unidentified aircraft were detected flying over the Atlantic in International Airspace," an RAF spokesperson said.
"The aircraft were identified as Russian Tu-160 Blackjack aircraft which were escorted by the RAF until they were clear of the UK area of interest. At no time did the Russian military aircraft cross into UK sovereign airspace."
Intercepts of Russian aircraft by NATO have increased over the last year amid heightened tensions between the West and Moscow over the Ukraine crisis.
Britain summoned Russia's ambassador to account for a similar incident in January after RAF Typhoons were scrambled when two Russian bombers flew over the English Channel.
A Foreign Office spokesperson said the incident was part of an "increasing pattern of out of area operations by Russian aircraft".
Speaking in February, former Air Chief Marshal Lord Stirrup accused President Vladimir Putin of playing a dangerous game of "chicken" with the RAF. He said: "We are seeing the possibility of collision between Russian aircraft and civilian aircraft increasing."
NATO last year said there had been an "unusual" increase in activity from Russian military jets over European airspace ranging from the Black Sea to the Atlantic Ocean.