Chelsea interim manager Rafa Benitez believes the club are still in the race for the Premier League title despite slipping seven points behind leaders Manchester United following Wednesday's goalless draw with Fulham.
The Blues are now without a league win since the middle of October and have slipped from the summit of the Premier League to fourth while also going three games without a goal.
Benitez must also contemplate the club's plight in the Champions League next week prior to the trip to West Ham United, but domestically the Spaniard, who failed to win the league title during his six years at Liverpool, says Chelsea are still in the hunt for top spot.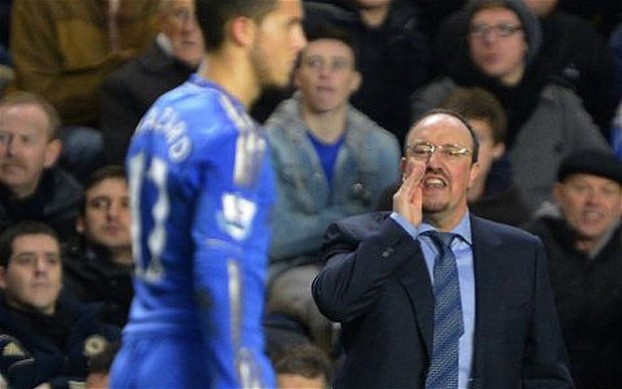 "Why can't we?" Benitez said.
"It's still a long way to go. We have to keep going. We'll have chances. Remember last season when Manchester City were ahead and it was [perceived as being] easy. Then they needed to win their last game. It's a long, long competition."
The draw with Fulham was met by a chorus of boos from the Stamford Bridge crowd, who again showed their discontent towards Benitez and his style of play which is yet to yield a goal in two matches since his appointment.
"Maybe from my point of view, but I was just concentrating on the game," Benitez admitted. "The fans realise to support the team and support the manager is the best way to move forward and win games."
The shackles put on the likes of Ramires and Oscar is already apparent while Fernando Torres continues to encounter problems, with the fluidity of Chelsea's early season performances a distant memory under Benitez.
"You saw how they defended with a lot of bodies there," Benitez said. "It wasn't easy for him, or [Eden] Hazard or Oscar. We were on top of them, regaining the game higher up the pitch, and might have won it in the last minute.
"You cannot be satisfied when you haven't won these games. Manchester City are a top side, a team with a lot of options."
However Benitez says he was able to take positives from the draw, despite Chelsea's limited attacking threat.
"I saw a lot of positive things, sustaining the attacks and regaining the ball very high," Benitez added.
"I didn't like the two chances we gave away on the counter-attack, and when we didn't move the ball too quickly, but it's a question of time.
"We have to link with our attacking players and we have to do it quicker. If you give the defenders time to reorganise it is always harder, even with the players we have.
"The shape of the team is OK, but we have to play with a little bit more tempo and quicker for the players that we have up front."