Chelsea's interim manager Rafael Benitez has launched a stern defence of his selection policy and believes his tendency to rotate his players has been unfairly compared with that of Sir Alex Ferguson and Jose Mourinho.
With Chelsea having fought on six fronts under the reign of Benitez, the Spaniard has been forced to rotate his team as the season reaches the sharp end, with nine games scheduled across a gruelling 28-day April programme.
During a six-year spell at Liverpool, Benitez earned a reputation for regular alteration, once going 99 consecutive games without naming an unchanged team, a sequence finally broken for a Champions League tie against Bordeaux in 2006.
While Benitez won't achieve a similar record in his tenure at Stamford Bridge, he feels the criticism of his management style is unjust, given how Ferguson and Mourinho tinkered during his spell at Anfield.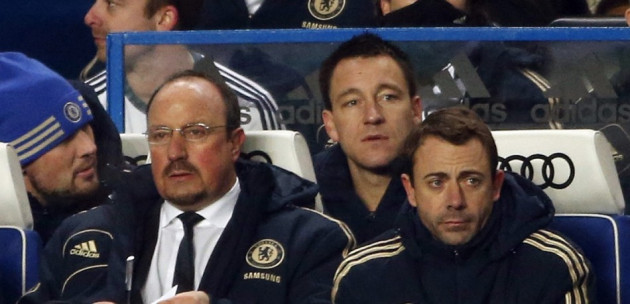 "We talk about rotation policy like it is something that is strange and I understand that years ago you didn't hear too much about that," Benitez said.
"But when you were talking about my rotation policy, Ferguson was rotating more players than me and no one was talking about that.
"In a top side, you have to change players because with three games a week it is not easy.
"I remember it was 99 times changing the team and everyone was talking about that and Ferguson was changing more than us.
"I can give you the figures; 119 times Ferguson, 119 times Mourinho at this club and we were doing the same because it was a top side playing two games a week.
"Years ago we were talking about 'Rafa is rotating this'; everyone was rotating players. Every year they were changing their teams."
Club captain John Terry is among the victims of Benitez's propensity for change.
A guaranteed starter during Mourinho and Carlo Ancelotti's spells with Chelsea, the ex-England skipper's recent appearances have been restricted to the Europa League. He marked his third Premier League start under Benitez, and first for a month, with two goals against Fulham on Wednesday 17 April.
Suspension for racially abusing Queens Park Rangers defender Anton Ferdinand coupled with a two-month absence with a knee injury has worked to disrupt Terry's season, but the once ever-present Chelsea leader's powers appear to be waning in west London.
Benitez revealed in February that such have been the complications with Terry's fitness since his arrival that he has been forced to miss training sessions, thereby restricting his opportunities.
Terry has since contradicted those comments, claiming that he can cope with Chelsea's punishing fixture pile-up, and Benitez has moved to clarify his comments surrounding the 32-year-old's fitness worries.
"A situation is being created that is not there," Benitez stressed.
"John is positive in what he said, he is quite positive in the training sessions so he's supporting the team and he's supporting the team-mates and he wants to win and we want to win.
"Every single player is different and you have to treat them in a different way.
"It's the same for all of them in some aspects but every player has a personality and you have to talk to him in a different way."