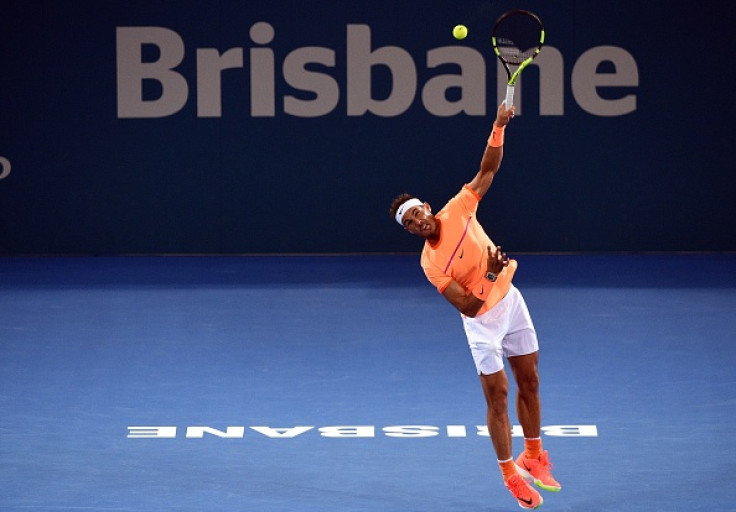 Rafael Nadal was delighted with his game after his win over Mischa Zverev in the second round of the Brisbane International tournament currently underway in Australia.
The Spaniard is returning from a wrist injury that curtailed his 2016 season and was playing in just his second match of the new ATP season. He dispatched Alexandr Dolgopolov in the first round 6-3, 6-3 and was more dominant in the second round winning 6-1, 6-1 over the Russian on Thursday (5 January).
Following the game, Nadal admitted that he played a "great" match overall, but was dissatisfied with his service game as his first serve percentage was relatively low at 43%. However, the 14-time Grand Slam winner did win 83% of his first serve points which served him well during the game.
The 30-year-old will now face Milos Raonic in the quarter-finals – their second meeting in the space of two weeks – with the first coming at the Mubadala World Tennis Championships when the Spaniard beat the world number three, 6-1, 3-6, 6-3. Nadal is aware that he will face a tough task to beat the 2016 Wimbledon finalist, but made it clear that winning is his only motive.
"I played a great match, I think," Nadal said after his win over Zverev, as quoted on tennisworldusa.org. "Difficult [to] say something negative, because in general I saw after, on the video screen, like, 30 winners and just a few unforced errors. Returning very well, I think. A lot of great passing shots. Only thing, I am not sure about my percentage of serves. I think was not that good tonight, was the only thing. But for the rest, I think I played great."
"He is one of the toughest opponents on tour today, without a doubt. He's the third in the world. His serve is huge, and he improved a lot from the baseline, too. It's a match that you cannot do mistakes if you want to really have any chance. You need to be really focused with your serve and then try to play aggressive on the return. I gonna try to make it happen, knowing that it's going to be extremely difficult match," the Spaniard said about Raonic ahead of their quarter-final clash on Friday.