Liverpool manager Brendan Rodgers has denied reports suggesting Raheem Sterling and Suso will both be sent out on loan until the end of the season, claiming the pair are an integral part of the squad at Anfield.
Sterling had been linked with a move to The Championship having not started in the league since January, while Suso turned down a move to relegation threatened Wigan Athletic last month having also been frozen out of first team action since the New Year.
Both featured in the recent Under-21 Premier League draw against West Ham United earlier this week, swelling suggestions the duo's limited first-team appearances could spark a temporary move away from Liverpool, but Rodgers has refuted any suggestions of such a switch.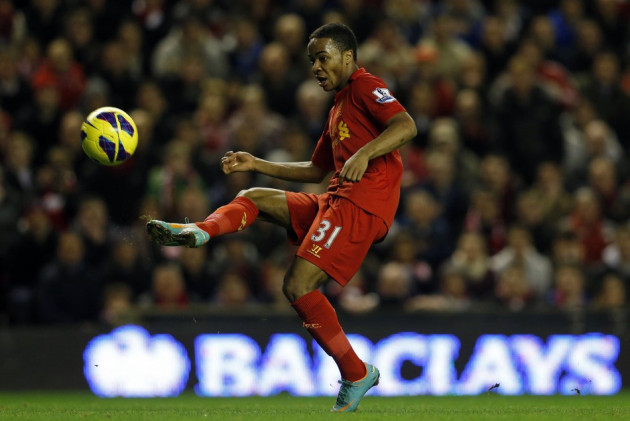 "It's very simple, neither of them are available for loan," Rodgers said.
"I'm not sure where the stories have come from, to be honest. They're both young players that have played a lot this year - they have been very much a part of our group.
"Raheem has been outstanding this year, he's only young and we need to nurture and protect him.
"We've got a very small squad and those two boys are an integral part of the group. That [loan deals] won't happen."
Despite the outstanding debt revealed in the club's finances last week, Rodgers is confident his ability to spend won't be stifled in the summer, as he continues his revolution on Merseyside since his switch from Swansea City last summer.
While failure to secure chosen targets last summer, including Clint Dempsey, was the catalyst to a difficult start to the season for Liverpool but recent results, including the win over Tottenham Hotspur which have followed the signing of Daniel Sturridge and Philippe Coutinho, shows Rodgers can deliver results when he succeeds in the transfer window.
But the Northern Irishman is keeping his targets close to his chest but says Liverpool are working on new recruits.
"If we were close, I wouldn't tell you anything," he added. "It's ongoing work, no different to most clubs.
"The people in our recruitment team behind the scenes are doing an excellent job in gathering information and watching the types of players that fit the profile we're after. That will be ongoing."