Saudi Arabia has published a defence of its use of the death penalty and legal system amidst a storm of anger over the execution of Shia cleric Sheikh Nimr al-Nimr on New Year's Day. A former Saudi high court judge told state media on Tuesday (5 January) that Saudi Arabia's legal system was "foolproof".
Sheikh Turki Al-Qarni told the Saudi Gazette that the cases of 49 people executed a week ago, including five Shia figures and dozens of Sunnis that Riyadh claimed were linked to al-Qaeda, were considered by 13 judges, including three during the trial, five following the decision and then a further five supreme court judges.
"Once the verdict is endorsed by the Supreme Court it would be final and it is passed to higher authorities for implementation," he said. He added that the judicial process sought to protect the rights of the defendants, "not only for imposing death sentence but also for cutting the hand of a robber the same three stages of trial are required to ensure justice. You will not see a similar system anywhere else in the world."
Qarni also explained that Saudi Arabia had three clear types of death sentence under Shariah law: known as qisas, taaziz and hadd. The first is imposed on murderers and can only be lifted if the victim's family agrees to a pardon. The second is typically reserved for drug smugglers and can be overturned by the Saudi king. The third, hadd, cannot be overturned, Qardi said, as it is ordained by God.
Explaining hadd, he said: "If another individual commits an armed robbery or assassinates a person or causes corruption on the earth like a terrorist and takfiri who describes his opponents as infidels, he is sentenced to death on the basis of the haraba punishment specified by the Shariah."
Haraba is commonly known as crucifixion, when an individual is beheaded and then their body displayed after death to deter others from perpetrating similar crimes. Sheikh Nimr's nephew, Ali Mohammed, has been sentenced to crucifixion, but it is not clear whether the Shia leader was beheaded or shot by firing squad. Indeed, Qardi said that both are permitted under Shariah but that Saudi Arabia's ruler decides.
"Indeed the penalty for those who wage war against Allah and His Messenger and strive upon earth to cause corruption is none but that they be killed or crucified or their hands and feet be cut off from opposite sides or that they be exiled from land," he said, quoting the Quran.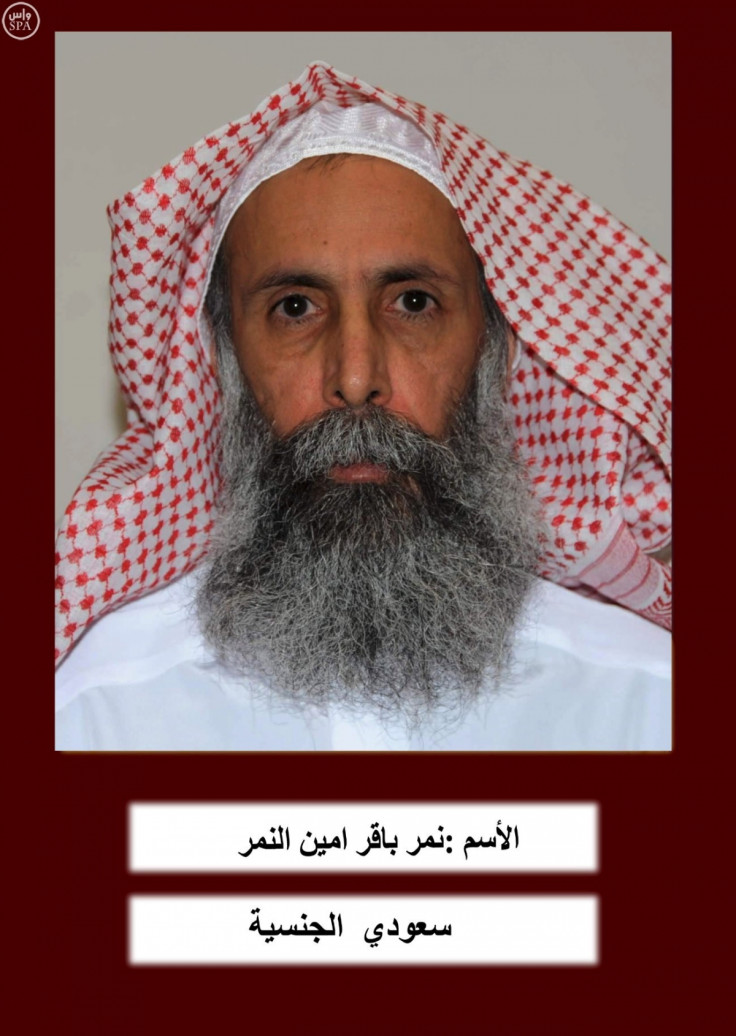 "That shall be a disgrace for them in this world; and a great punishment (awaits them) in the hereafter. [The] Prophet Muhammad has said while highlighting the value of a Muslim's blood: 'The disappearance of the world is less serious to Allah compared to the killing of a Muslim'."
The execution of Sheikh Nimr and the case of his nephew, Ali, has led to widespread criticism across the world including from Iran, which has compared Saudi Arabia's government to the Islamic State (Isis) executioner Mohammed Emwazi (Jihadi John). Critics have pointed out that Iran's own record of executions is prolific, as many as eight times the amount put to death in Saudi Arabia during 2014.
Attention will now turn to Ali Mohammed al-Nimr, who has been convicted on similar charges to his uncle but was a minor at the time of his arrest. His family claims that he was tortured into confessing after being arrested in 2011 during Saudi Arabia's Arab Spring protests in the Eastern Province. His case was raised by Labour leader Jeremy Corbyn in his inaugural Labour party conference speech.
Saudi Arabia has adopted an increasingly hostile approach to international criticism during the scandal over the death sentences of Nimr and his nephew. At the end of 2015 the Saudi embassy warned that Riyadh would not allow foreign intervention in its legal system as calls mounted for Ali Mohammed to be pardoned.
King Salman, who has been in power in Saudi Arabia for just under a year, has taken a more hard line approach to both domestic and foreign policy since he replaced his brother, Abdullah, known as a cautious reformer.