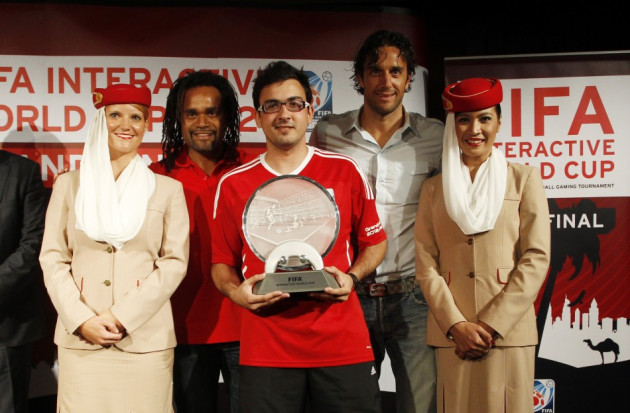 Spain's Alfonso Ramos has been crowned the new FIFA Interactive World Cup (FIWC) champion after he beat Bruce Grannec in the final in Dubai.
After six online seasons, eleven live qualification events held worldwide and a record-breaking 1.3m participants, Ramos came through a tense penalty shoot-out to claim the $20,000 grand prize in the Jumeriah Resort, Dubai.
The FIFA Interactive World Cup 2012 Grand Final was about more than just online football though. The finalists also enjoyed an three-day visit to Dubai, visiting the Burj Kalifa, the world's tallest building, getting the chance to meet and play football with former FIFA World Cup winners Christian Karembeu and Luca Toni, along with enjoying all the thrills and spills that Wild Wadi waterpark had to offer.
Ralph Straus, FIFA's Head of Strategy & Brand Management said: "We are delighted to crown the first ever FIWC Champion to win the event on two separate occasions. The number of players competing in the FIWC this year represents yet another record-breaking achievement with our online community growing dramatically year on year.
"We are looking forward to further strengthening our collaboration with our Presenting Partners, EA Sports and Sony PlayStation, to develop and drive the online growth of this remarkable initiative."
Nick Caplin, Head of Communications, SCEE added: "'PlayStation would like to congratulate Alfonso Ramos on his fantastic victory in this year's FIFA Interactive World Cup. This year's tournament has been an incredible success with over 1.3m players playing via PlayStation Network and we look forward to taking the tournament from strength to strength in the coming years."
Jon Rosenblatt, Senior Marketing Director, EA SPORTS, Europe and Asia, said: "Tonight's incredibly skilled and thrilling finale provided a suitable end to this year's competition and Alfonso Ramos is a worthy champion. The FIFA Interactive World Cup 2012 has seen the strongest field of competitors ever and to emerge as the Champion is testament to his skills on the virtual pitch - congratulations!"