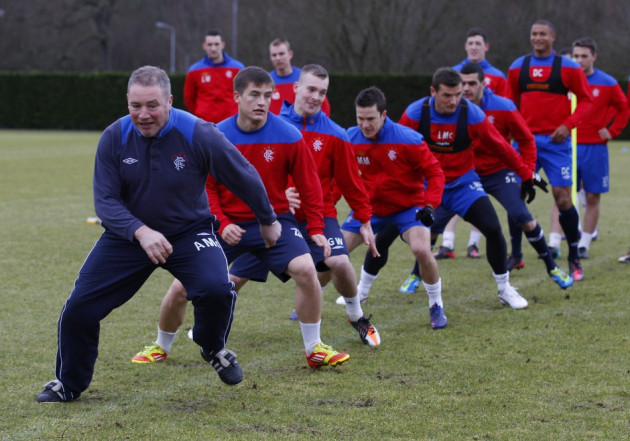 Rangers have been warned by administrators that they are sliding towards liquidation after players rejected huge pay cuts they originally agreed to.
If an agreement is not reached by Friday, Rangers may be forced to make large-scale redundancies just to allow Ally McCoist's team to complete the rest of the Scottish Premier League season.
The administrators were looking to slash £1m a month from Ranger's £22m annual wage bill by proposing the high earners of the club take a 75 percent cut, the middle earners a 50 percent cut and lower earners a 25 percent cut.
The high earners include Lee McCulloch, Steven Whittaker, Allan McGregor - all believed to earn more than £15,000 a week - and the club's top earner, captain Steven Davis, understood to be earning £28,000 a week.
Duff and Phelps, the Rangers administrators, warned that they were "accelerating" the sale of the club, which went into administration last month over unpaid taxes of £9m.
Redundancies and selling players, along with confirmation that Rangers will not be playing in Europe next season due to their financial problems, would make a quick sell of the club difficult. It could signal the death of Rangers FC at it stands now, almost 140 years after it was created.
Director Dave King claimed liquidation was inevitable and administrators appeared to be preparing fans for the possible formation of a new company.
Joint administrator David Whitehouse told Rangers TV: "What we don't want to do is mix the terminology here and start to portray liquidation as a process which creates the cessation of the business.
"The liquidation will wind up a business following the sale of the business activities into a newco [new company].
"So in any scenario we would still envisage that Rangers Football Club could play football and operate as a football team. We have always said that liquidation is a possible scenario."
Midfielders Gregg Wylde and Mervan Celik became the first players to leave the club in an attempt to resolve the financial crisis.