The policeman blinded by Raoul Moat in 2010 would not have been hurt if Northumbria Police had warned him of the fugitive's rampage, his family has said. PC David Rathband was shot twice in the face at close range on the A1 in Newcastle in July 2010, shortly after Moat had claimed he was on the hunt for police officers.
Rathband was blinded in the attack. His injuries also caused him constant pain and robbed him of smell and taste. He killed himself in February 2012, aged 44.
Now his brother and sister are preparing to go to the High Court, to claim that PC Rathband's employers were negligent in not passing the warning on to officers on patrol.
Moat shot his ex-partner Samantha Stobbart and killed her boyfriend Chris Brown in the early hours of 3 July 2010 in Birtley, Gateshead. A few hours later, while still on the run, he attacked PC Rathband, having warned a police call handler that he would kill any officer who came near him. PC Rathband was attacked by the former nightclub bouncer eight minutes after he finished the call.
The officer's twin brother Darren Rathband and his sister Debbie Essery, said that he would not have been sat in a stationary vehicle in a "highly visible" position at a prominent junction.
They claim that roughly two minutes before the attack, one police employee phoned a supervisor to ask if "something was going out over the air regarding the threats". The Rathband family claim that no action was taken.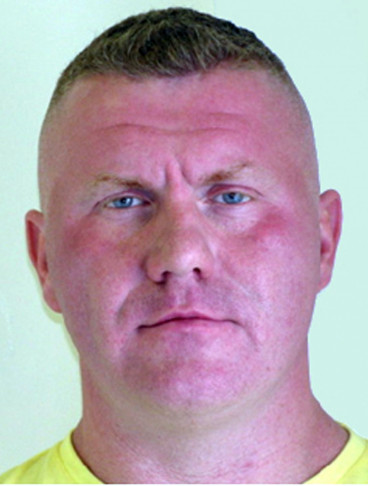 A spokesperson for the family's legal team said: "Had the deceased been given any warning that Moat was out hunting for police officers, he would have immediately moved from his highly visible stationary position and would have followed such instructions as were given, but in any event would have kept his vehicle in motion."
Moat went on the run for seven days and following a huge and highly publicised manhunt was eventually cornered in Rothbury, a rural town in Northumbria. He was killed in a shootout with the police.
PC Rathband's family claim that an internal review conducted by Northumbria Police the following month had concluded that it was not possible to draw up and communicate a fully risk-assessed response to Moat's actions in the time between the call and the attack. The family believes an interim warning could have been made.
The case was started by PC Rathband himself, with any damages used to cover the costs of his ongoing care. It will be heard at Newcastle crown court from 12 January and will last two weeks. Northumbria Police declined to comment.