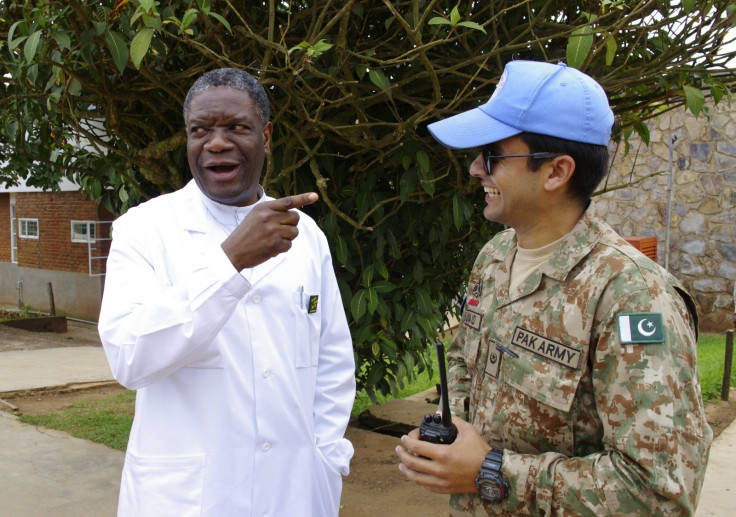 Known as the rape surgeon of the Democratic Republic of Congo (DRC), Doctor Denis Mukwege has helped to care for more than 50,000 survivors of sexual violence. But the founder of the Panzi Foundation's fight to end sexual violence against women also means he is one of the most at risk human rights defenders in the country.
Mukwege's close friend and colleague, Dr Gildo Magadju Byamungu, was murdered in Uvira, Sud-Kivu, last month. His assassination by armed men in his own home shocked the DRC and the international community, with France urging the Congolese authorities to ensure "full light to be shed on this murder in order to bring the perpetrators to justice".
In 2012, Mukwege narrowly escaped an assassination attempt at his home and fled for a few months in Sweden and Belgium with his family. Upon his returning to Panzi Hospital in Bukavu (South Kivu), where he lived cloistered in, he had benefited from UN peacekeepers' (Monusco) protection.
However, following the recent departure of former UN Special Representative of the Secretary-General Martin Kobler, this protection was withdrawn, without giving Panzi Foundation DRC any explanation, according to the organisation.
According to the Panzi Foundation, the Pakistani contingent of Monusco, which had been based at Panzi camp, was moved in 2016.
The head of Monusco's public information Charles Antoine Bambara on 10 May denied the blue helmets' withdrawal, saying: "Our forces are always there to secure those who feel threatened. Some of our soldiers are even now near Panzi Hospital."
But, citing Monusco's mandate to protect civilians, Panzi Fondation in the DRC requested that mission provide permanent, continuous protection to the doctor and the hospital.
"The threat remains, grows, and is permanent. It is surprising that Monusco does not seem to understand this fundamental and urgent reality about the safety of Dr Mukwege, the medical and administrative staff, and especially the girls and women who come to Panzi," the organisation said in a statement.
Panzi Foundation USA's executive director Tony Gambino on 11 May joined his Congolese colleagues in calling for the restoration of protection to Mukwege and Panzi Hospital.
"To say that Dr Mukwege is under no threat is a terribly wrong misstatement. Sadly, the statement made by Monusco is factually incorrect. Protection was withdrawn following the departure of former SRSG Martin Kobler. This needs to be rectified as soon as possible," Gambino said.
Mukwge's work has drawn attention to the desperate plight of women who are described as a "battlefield" in the DRC's restive eastern provinces' sometimes forgotten crisis.