The leader of France's extreme right FN, Marine Le Pen, is currently leading in the polls, with a projected 25% of the vote in the first round of elections, but is expected to lose to centrist Emmanuel Macron in the second round.
According to a poll by Ipsos, Emmanuel Macron, who would receive 24% of the vote were it held this week, is the most likely of the five main candidates in the French elections to grab the keys to the Elysee Palace.
Reuters reported Macron would go on to soundly beat Le Pen in the two-way decider vote on May 7, following the April 23 first round, with 62% for Macron compared to 38% for Le Pen, added the poll.
The nature of the two round system of French Presidential elections means fringe candidates or surprise second round winners are unlikely to become president. In 2002 Jean-Marie le Pen of the National Front (FN) made it through to the second round in a huge upset. He was nevertheless beaten by unpopular incumbent Jacques Chirac, gaining just 18% of the vote in the second round.
Marine Le Pen and Macron's three closest contenders, the Republican party's Francois Fillon, socialist Benoit Hamon and the Communist Party's Jean-Luc Mélenchon have made little ground in the polls.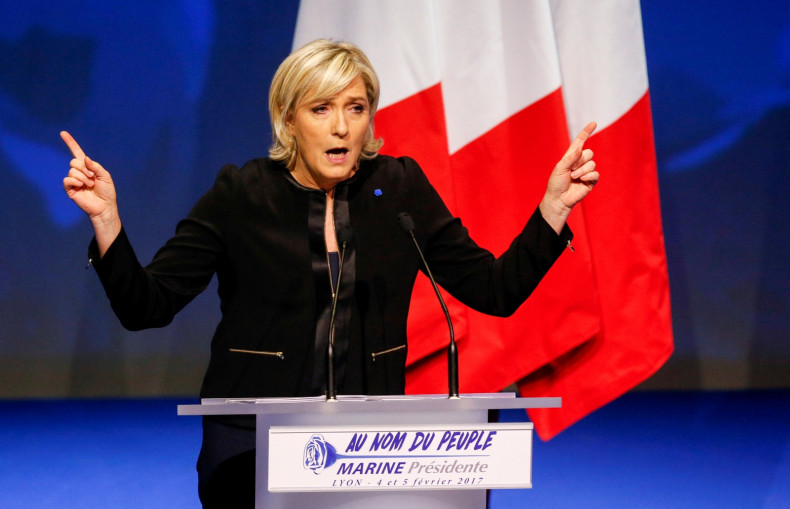 Fillon, who had at one point been the most likely candidate to take on Le Pen, has fallen to 18% of the vote. The former Prime Minister has been hit by a string of scandals involving the payment of hundreds of thousands of euros in money to his family members for work they may never have done. His credibility has been seriously damaged after he was put under formal investigation over the payments.
Benoit Hamon would receive a 14% share of the vote, meaning that for the first time in the history of France's Fifth republic, the dominance of the country's leading left-wing and right-wing parties has been broken.