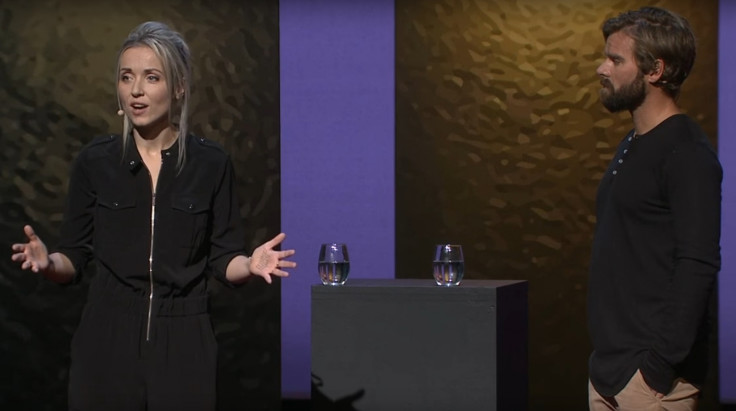 This is a strange, disorienting, true story. Thordis Elva, 36, is Icelandic. When only 16, she was raped after a Christmas party by Tom Stranger, an 18-year-old Australian on an exchange visit, who was her first real boyfriend.
Both of them were drunk. Elva threw up; it was the first time she had drunk rum. He helped her out of her soiled clothes then 'took her', as they say in bad erotic novels. Nine years later, she contacted him via email, a ghostly call from the past. They relived that night online and got deep into the motives and effects of what was done by him to her.
Then she made a radical suggestion: "You may need a lifetime to forgive yourself for what you did to me. That's up to you. I, however, am climbing a different mountain. And I am getting very close to the top. I propose that in six months' time, we up meet up with the intention of reaching forgiveness once and for all. In person."
How strange all this must have felt for Stranger. But he was, by then, perhaps intrigued and relieved by the possibility that bad things he did could be resolved and given a decent burial. They met, talked, and talked and talked and reached some kind of reconciliation.
Then came a book entitled South of Forgiveness, a Ted talk, big media interest and public engagements – the latter at times bringing out outraged campaigners and victims who feel this platforming of a rapist is 'normalisation' and could encourage other violators to contact their victims.
Elva and Stranger were due to speak at the Women of the World festival at the South Bank this week, but the event was cancelled because of protests. On Tuesday (14 March) evening the couple did take to the stage and share their remarkable collaborative presentation of truth, restless inarticulate memories, guilt, shame and recognition of her pain and his responsibility. The responses were mixed. Several in the audience admired Stanger's honesty and willingness to wear the hair shirt. Just as many found it all inappropriate and suspect. I am pulled between these two positions.
In TV and newspaper interviews, both are confident they are doing the right thing and for the right reason. Rape, believes Stranger, "should be a man's issue", a position endorsed by Jude Kelly, artistic director of the South Bank Centre.
The Ted talk had integrity and intensity. Stranger was indeed the most repentant sinner ever. Elva too was so open you felt she was naked before you. For years she'd blamed herself for being drunk and too provocative. But there was also something discomfiting about it all. Restorative justice that encourages criminals to meet the people they have hurt and preyed on can help turn people round. But this is performative reckoning, repeated over and over until the words read like a script for an edgy, contemporary play.
Such externalising must lead to voyeurism and disconnection from inaccessible emotions. A rapist I once met in a prison told me he had gone through all the therapies but still felt there were parts of him that remained beyond reach: "Human beings think they understand everything. But we don't."
We really, really don't. Rape is an intimate and yet the most invasive of crimes, a crime that happens away from the public gaze. Murders and robberies take place in busy spaces, some in broad daylight, but not most rapes. (Though in some countries rape is a weapon of war and brazenly used against women, girls and boys).
To overexpose those who violate and those who are violated seems unwise. One reason females do not report rapes is that they do not want to describe the experience and have their lives exposed to the inquisitive, sometimes cruel and judgemental, populace.
And yet to protect women, men and children, surely we must learn more and try to inform ourselves about what it is and why it happens. Just last week, Lindsey Kushner, an experienced female judge, advised young women to avoid getting too drunk because sexual predators seek such females out. Oh boy was there an overreaction by some feminist groups.
Instant protests and whipped up anger prevent us from doing what we need to. But so too does polished introspection and rehearsed remembering of harrowing incidents. The Elva and Stranger Show cannot help that totally damaged young student I once met who was raped by a soldier and then made herself obese to avoid male attention. Or the Indian wife nearby who has suffered marital rape for years.
So, on balance, though this couple has done well to come through the other side, theirs is a middle-class vanity project that won't harm anyone — but it won't help either.