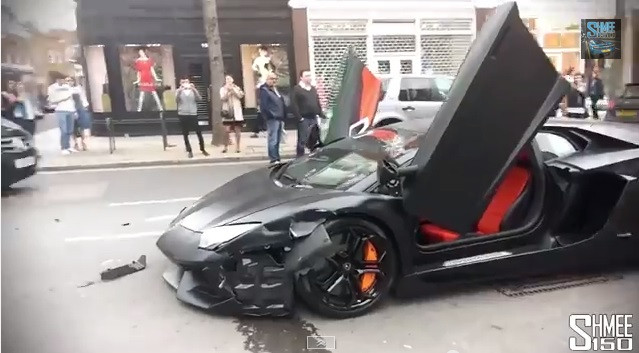 The driver of a rare £300,000 Lamborghini Aventador is facing a hefty repair bill after crashing into parked cars along one of London's most expensive streets.
Crowds gathered to look at the damaged 217mph supercar after it first collided with a Mazda 5 and then careened into a parked BMW along Sloane Street, in the exclusive Royal Borough of Kensington and Chelsea.
The matte black Lamborghini, described by the Italian car-maker as "uncompromising and extreme" was later towed away while the "apologetic" owner watched on.
The driver was breathalysed by police but no arrests have been made following the crash.
The owner of the BMW involved in Monday's crash, Lila Afshar, told the Evening Standard she returned from a Mother's Day meal to find the damaged vehicle. She said: "We showed up about three hours after the incident and there was a letter on the windshield.
"The Lamborghini was being towed away and the owner came up and explained what had happened. He was really apologetic about it."
The incident is not the first time the expensive borough, favoured by London's billionaires and millionaires, has seen wild car antics.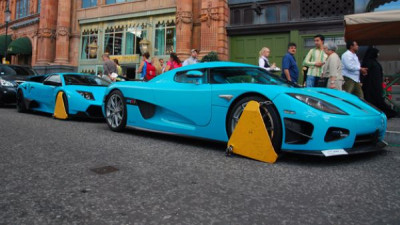 In July it was reported an Iraqi playboy had been speeding through Knightsbridge in a turquoise Ferrari 599.
That incident followed the surreal sight of two supercars, £1.2million Koenigsegg and£350,000 Lamborghini, both of which belonged to the Qatari royal family, being clamped outside Harrods in 2011.
Lamborghini Aventador - Flagship model

The Lamborghini Aventador is the new flagship model in the Lamborghini lineup.

It is powered by a 6.5-litre V12 engine which develops a staggering 700bhp.

It will accelerate from 0-62mph in just 2.9 seconds and go all the way to 217mph - three times the motorway speed limit.

The Italian car-maker will only produce 4,000 of the cars

This Aventador will reportedly be used as the vehicle mode for a Decepticon in the upcoming film, Transformers: Age of Extinction