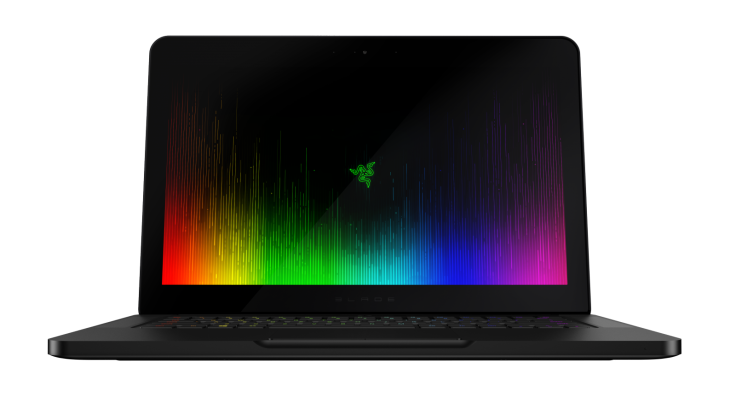 Razer has refreshed its 14in Blade gaming laptops, adding the latest Intel processor, faster memory and an optional 4K Ultra HD display option. The base model in the retooled portable line is available now in the UK starting from £1,799, with the 4K version to follow in the second quarter at a hefty premium.
Maintaining the ultra-thin design of its predecessor, the updated Blade focuses more on internal improvements, with Intel's Skylake CPU replaced by a Kaby Lake quad-core processor (i7-7700HQ) that Razer claims will ensure the new laptop is "more powerful and more efficient than last year's model".
The Blade's 16GB of DDR4 RAM also receives a small boost, jumping from 2133MHz to 2400MHz, while sticking with the GeForce GTX 1060 GPU and PCIe solid state drive storage options (256GB up to 1TB) found on its predecessor.
Those looking for the beefiest set-up on the Windows 10 machine will need fairly deep pockets though, as switching out the standard 14in Full HD screen for a 4K panel (314 pixels-per-inch) with capacitive multi-touch will set you back at least £2,299.
On the connectivity front, Razer's new Blade comes with a Thunderbolt 3 port, three USB 3.0 connectors and "Killer Wireless" Wi-Fi (802.11ac). Razer's anti-ghosting keyboard also comes complete with the company's Chroma lighting tech as standard, boasting 16.8 million colours for customisable technicolour light shows under your fingers.
"The Razer Blade sets the benchmark for performance in thin laptops," said Razer CEO Min-Liang Tan. "More users embraced this flagship computer model in 2016 than ever before, and we are excited to make it even more available worldwide this year. Beyond gaming, it has been really gratifying to see people enjoying the power and portability of the Blade for video editing, music creation and software development."
You can find the updated 14in Razer Blade at the Razer Zone store here and it will come to selected retailers on 20 February. It is also available now in the US, with a worldwide launch slated for March 2017.