A new app is offering Apple users a way to experience macOS in virtual reality. VR Desktop for Mac works with the Oculus Rift Development Kit 2 and creates a multi-monitor virtual workspace that users can interact with.
Oculus founder Palmer Lucky dealt a serious blow to the Mac community back in March 2016 when he suggested Apple computers aren't powerful enough to run the Oculus Rift VR headset, putting Oculus development for Mac on ice indefinitely.
VR Desktop for Mac isn't a workaround as such, but it does offer users a small taste of virtual reality on the Apple platform while they wait for Cupertino to release its own dedicated AR/VR headset – that is, if it does at all.
The app lets users multitask across three virtual screens and provides custom VR environments for entertainment, including virtual theatre for watching films and "a giant curved screen in space" for gaming. This doesn't mean Mac users can now play VR games, though: these will still appear in 2D as they would on a physical monitor.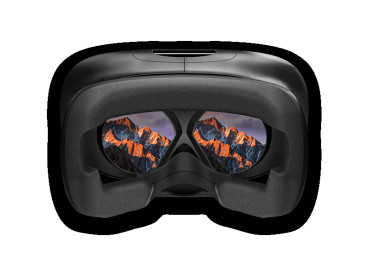 The app is only supported on the second-generation Oculus Rift Development Kit for the time being and requires macOS 10.11 or later to run. Sweden-based Cindori hopes to bring VR Desktop for Mac to the consumer version of the Oculus Rift as well as the HTC Vive, depending on whether official Mac support is added for the headsets.
Facebook-owned Oculus originally planned headset support for Mac as well as Linux-based computers, but changed tack in 2015 after deciding to focus on Windows PCs.
Palmer Lucky later explained that Macs didn't have the necessary graphical specifications to run the VR headset, but said support would be considered if Apple "ever release a good computer".
According to 9to5 Mac, HTC may introduce Mac and Linux support to the HTC Vive by Q2 this year.