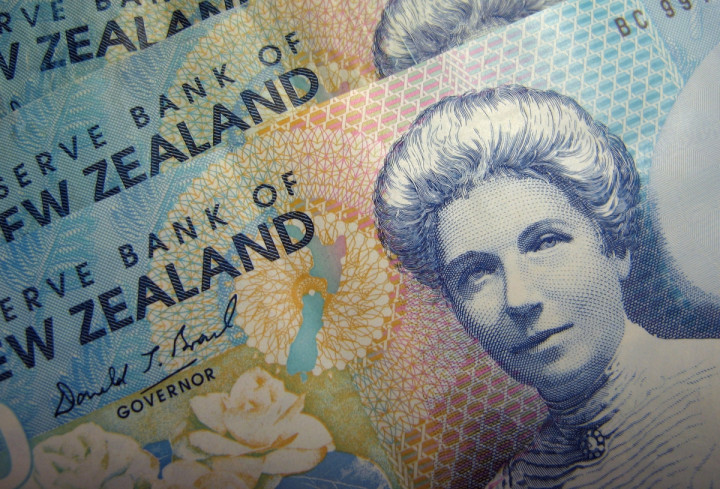 The New Zealand dollar continued to fall on Tuesday as a survey by the Reserve Bank of New Zealand showed that one and two-year-ahead expectations of annual CPI inflation have declined further.
The one-year series decreased from 1.96% to 1.59% on a mean basis while the median fell to 1.5%, the RBNZ said. At the same time, two-year-ahead expectations decreased from 2.23% to 2.06%. The median dropped from 2.20% to 2.00%.
NZD/USD fell to 0.7808 from Monday's close of 0.7857. The kiwi dollar edged lower on Monday after showing some strength on the migration and visitor arrivals data that showed record net gains in migrants in October.
The pair is now not far away from the 30-month low of 0.7660 touched earlier this month.
Analysts said the gain in manpower is not helping to boost prices and if the deflationary forces persist, the central bank may be forced to lower its interest rate outlook too.
The survey results show that more people are seeing New Zealand's monetary conditions getting easier in the coming quarters. However, throughout the year, firmer conditions are expected as the number of respondents expecting easy monetary conditions progressively reduces across the expectation horizon.
At the time the survey was completed the net percentage of respondents believing monetary conditions to be easier than neutral was 27% compared to 19% last quarter. By March 2015, 27% of respondents still view conditions to be easier than neutral.
The RBNZ has recently adjusted its interest rate guidance, suggesting that fewer OCR hikes will be required because of subdued inflation pressures. Analysts point out that Tuesday's survey results vindicate the central bank view.
Subdued inflation expectations has weakened down the kiwi dollar which has been already under pressure due to the broad rally in the US dollar.
The new inflation insight is likely to further dampen the outlook for the local dollar, analysts said.
The New Zealand CPI rose at an annual pace of 1% in the September quarter, below expectations, and only just within the Reserve Bank's target band of 1-3%.
The survey also expects wage pressures to ease in New Zealand.
Unemployment is expected to fall to 5.3% in the year ahead, and 5.2% the following year, from 5.34% now. Also, one-year ahead hourly earnings growth is seen at 2.47% down from 2.55% seen three months earlier, and the two-year ahead growth of 2.6%, compared to a previous view of 2.75%.
The NZD/USD pair has fallen more than 13% from the record high of 0.8835 hit in July by the 30-month low of 0.7658 earlier this month. In fact, the pair has been moving broadly sideways for the past two months.