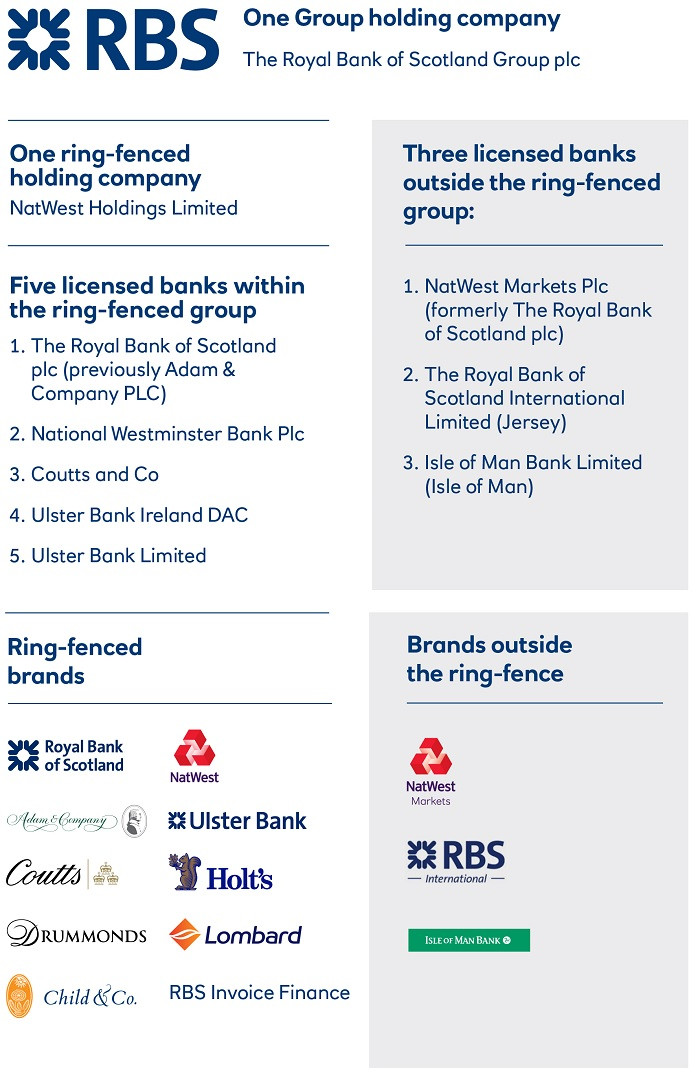 Royal bank of Scotland (RBS) on Friday revealed its proposed future legal entity structure for the group. The new structure will help the bank comply with the UK's ring-fencing rules, which require all lenders with more than £25bn ($32.45bn) of deposits to separate their consumer-facing business from their investment banking activities by January 2019.
Currently, RBS is one of the retail banking subsidiaries of The Royal Bank of Scotland Group plc, together with NatWest and Ulster Bank. It has about 700 branches and is headquartered in Scotland.
In a statement, the bank said it intends to transfer the majority of its UK and western European banking businesses into ring-fenced banking entities under an intermediate holding company. The bank added that its corporate and institutional banking (CIB) activities will be placed in a non-ring-fenced bank while the RBS International business will be placed outside the ring-fence. These will, however, be subsidiaries of The Royal Bank of Scotland Group, it said.
To enable this, the bank said it will reorganise its businesses. It said it will transfer most of its existing personal, private, business and commercial customers from The Royal Bank of Scotland plc ("RBS plc") to Adam & Company PLC, its Scottish private bank, in 2018. This bank will immediately be renamed "The Royal Bank of Scotland plc". This will be a ring-fenced bank within the ring-fenced group.
Also in 2018, it will rename RBS plc to "NatWest Markets Plc". This will be the non-ring-fenced bank and direct subsidiary of RBS Group plc and will continue to operate its CIB businesses.
RBS said it will create a holding company called "NatWest Holdings Limited" in 2017. This would include National Westminster Bank Plc, Adam & Company Plc and Ulster Bank Ireland DAC. While this holding company will initially be a subsidiary of RBS plc, it will by the end of 2018, be a direct subsidiary of RBS Group plc.
Commenting on this, Ross McEwan, RBS CEO said in a statement, "Our proposed future structure under the ring-fencing legislation and our brand strategy are key elements of the bank we are becoming. The future ring-fenced structure of the bank is not only designed to be in compliance with the new regulatory requirements and objectives but will better reflect who we are as a bank and what we stand for: a bank that is focused on its customers."