Misleading tale of two goalkeepers
While one goalkeeper in David de Gea has received unnecessary praise after a faultless display, his opposite number's uncertain performance has sparked little in the way of criticism. De Gea may have saved well from Fabio Coentrao either side of half-time, but the remainder of the efforts on goal, from the likes of Cristiano Ronaldo and Sami Khedira, produced routine saves, even for a goalkeeper as renowned for his shot-stopping ability as the ex-Atletico Madrid man. Headlines roaring that De Gea 'came of age' are someway removed from the reality of the performance required to restrict the damage. Furthermore, the struggles the Spaniard endured from crosses, a recurring theme during his time in English football, have gone unreported.
Madrid's Diego Lopez endured an altogether more difficult evening. Replacing Iker Casillas must be regarded as one of the tougher jobs in world football, but the 31-year-old made heavy weather of sporadic United pressure. Found in no-man's land as United took the lead through Danny Welbeck, crosses appeared an alien concept to the former Sevilla stopper at various points of the contest. There was even some fortune surrounding his save from Robin van Persie, which rebounded against the bar, but those brittle hands did keep the Dutchman out expertly in stoppage time.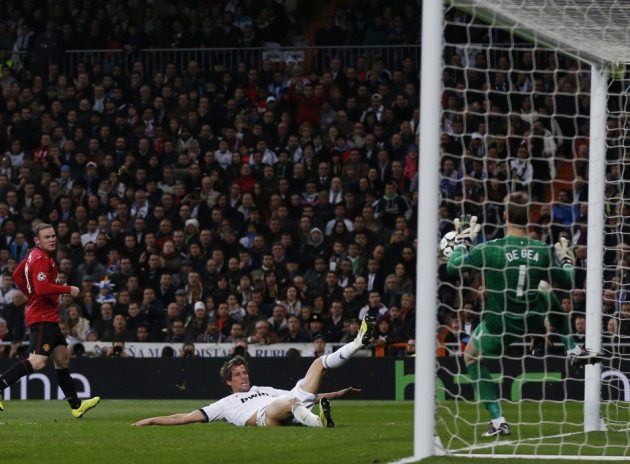 United must choose between Shinji Kagawa and Wayne Rooney
Upon the confirmation of Shinji Kagawa's move to United in the summer, anyone who had passed an eye over Borussia Dortmund during their successive title wins could tell a problem would soon arise. The Japan international adopted a reputation for playing in between the lines, meaning that upon his move to Old Trafford, he and Wayne Rooney would be operating in similar areas.
Sir Alex Ferguson's had previously tackled the dilemma by using Kagawa in a wide-left position, but that has simply worked as a short-term solution for a longer-term problem. In the Bernabeu, both players floundered. While the stage appeared too big for Kagawa, Rooney's radar looked slightly askew. When it comes to the return game at Old Trafford, Ferguson is unlikely to compromise with his team with the onus on attacking. One has to go.
Madrid's attack blunted
As United lived dangerously in the first half, it was impossible not to notice the bodies Madrid were committing to each attack, leaving the visitors compelled to leave just Danny Welbeck in the opposing half.
But in the second 45 minutes, while there were bodies aplenty looking for a winner on the night, Madrid lacked penetration, and more worryingly, ideas. They rarely deviated from playing through a United defence marshalled by the brilliant Rio Ferdinand. From wider areas, in the form of Angel di Maria, who provided Ronaldo's headed equaliser, Madrid appeared far more dangerous, not least when De Gea kept out Coentrao. Mourinho won't need telling twice and surely a more adept use of Alvaro Arbeloa in the second leg will spark a change of tact. De Gea and United's defenders have proved themselves vulnerable from wide positions more than once before.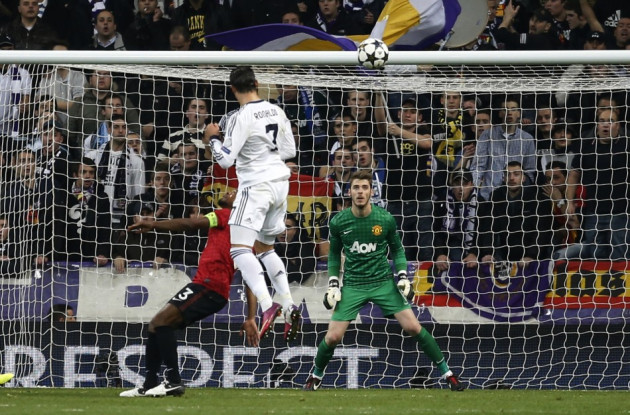 Michael Carrick can more than live with Xabi Alonso
For all the plaudits thrown in the direction of Michael Carrick, many expected the reborn England international to live in the shadow of Xabi Alonso at the Bernabeu; the reality was far different. While the former Liverpool midfielder lacked his regular guile and accuracy from set pieces and the like, his counterpart out-passed and out-thought the World Cup winner.
Carrick came away with 75% pass accuracy, the best of any player who completed the full 90 minutes, as oppose to Alonso's 69%. Many will have noted how United failed to control the game for long periods amid swathes of Madrid attacking, but it was Carrick, whose time on the ball was seemingly few and far between, who attempted more passes than Alonso, with Welbeck the main beneficiary.
Ronaldo's header far from his greatest
There is no doubting the immense technique and power that came from Ronaldo's bullet header after 30 minutes at the Bernabeu, but let's try and bathe the story in some realism. It was merely a header from 12 yards; Ronaldo didn't cure the world's fiercest diseases.
Furthermore, as far as other Ronaldo headers go, his effort against his former employers is far from his best, nor is it the most important. After a season during which Barcelona had dominated domestically and in Europe, Real provided a sucker punch in the Copa del Rey final in 2011, delivering Pep Guardiola first his defeat in a final as boss of the Catalans. After 90 minutes of exhilarating action, Ronaldo sprung to meet Di Maria's whizzing cross in extra time to win the final at the Mestalla. The Ballon d'or runner-up needn't worry however, a similarly big stage approaches in three weeks.