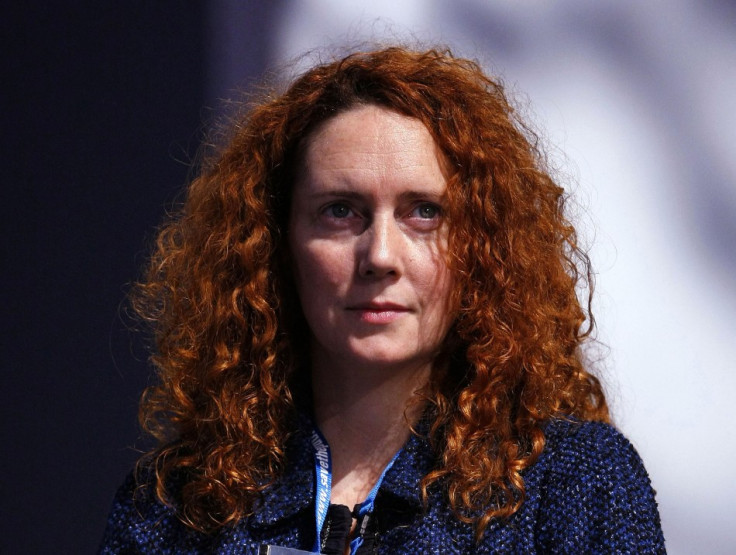 In a suprise move, Rebekah Brooks and husband Charlie have made a statements in response to being charged with perverting the course of justice in connection with the phone hacking scandal that could send them to both prison.
She told the press gathered outside the offices of her lawyers,Kingsley Napley, in central London:
"Whilst I have always respected the criminal justice system, you have to question whether this decision has been made on a proper impartial assessment of the evidence.
"Although I understand the need for a thorough investigation, I am baffled by the decision to charge me. However I cannot express my anger enough that those close to me have unfairly been dragged into this.
"As the details of the case emerge people will see today as an expensive sideshow, and a waste of public money as a result of this weak and unjust decision," she said.
Her husband, the race horse trainer and former school friend of Prime Minister David Cameron, Charlie Brooks, was even more searing in his criticism of the charges.
"I feel today is an attempt to use me and others as scapegoats, the effect of which is to ratchet up the pressure on my wife, who I believe is the subject of a witch hunt.
"There are 172 police officers, about the equivalent of eight murder squads, working on this; so it doesn't surprise me that the pressure is on to prosecute, no matter how weak the cases will be.
"I am confident that the lack of evidence against me will be borne out in court, but I have grave doubts that my wife will ever get a fair trial, given the volume of biased commentary which she has been subject to.
"We look forward to fighting this in court," he declared.
Brooks, former editor of News of the World and boss of News International, faces three charges of perverting the course of justice in connection with the phone hacking scandal.
Brooks, 43, has been charged alongside her husband Charles, her former assistant Cheryl Carter, Mark Hanna, former head of News International security, Paul Edwards, her chauffeur, and Daryl Jorsling, who also provided security.
They were informed of the charges, which could lead to prison, shortly before a public announcement was made by the Crown Prosecution Service.
Brooks said: "We deplore this weak and unjust decision. After the further unprecedented posturing of the CPS, we will respond later today after our return from the police station."
Alison Levitt, principal legal adviser to the director of public prosecutions, said: "All of the evidence has now been carefully considered.
"Applying the two-stage test in the code for crown prosecutors, I have concluded that in relation to all suspects except the seventh [unnamed], there is sufficient evidence for there to be a realistic prospect of conviction.
"I then considered the second stage of the test and I have concluded that a prosecution is required in the public interest in relation to each of the other six.
"All seven suspects have this morning been informed of my decisions."
The charges in full are:
Rebekah Brooks between 6 July and 19 July, 2011 conspired with Charles Brooks, Cheryl Carter, Mark Hanna, Paul Edwards, Daryl Jorsling and persons unknown to conceal material from officers of the Metropolitan Police Service.
Rebekah Brooks and Cheryl Carter between 6 July and 9 July conspired together permanently to remove seven boxes of material from the archive of News International.
Rebekah Brooks, Charles Brooks, Mark Hanna, Paul Edwards and Daryl Jorsling conspired together, with persons unknown, between 15 July and 19 July to conceal documents, computers and other electronic equipment from officers of the Metropolitan Police Service.