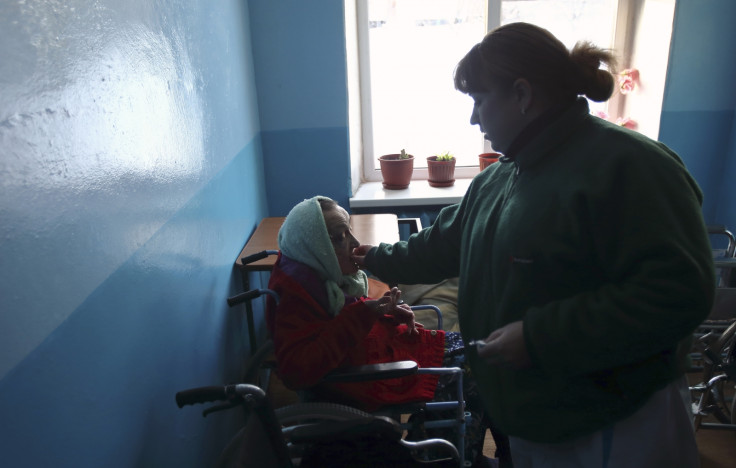 The nights are calmer now, but the small children can still hear shelling in the distance. If the pounding doesn't keep them awake, wetting their beds because they have no nappies certainly will.
Ever since the separatists officially pronounced the eastern city of Luhansk - or Lugansk, as it's pronounced in Russian - as the capital of the self-declared Luhansk People's Republic at the end of April last year, the Ukrainian government has cut all supplies to the post-apocalyptic town.
For nearly two months last summer, the city that was once home to more than 400,000 inhabitants was pummelled by continuous artillery fire.
For survivors living in the worst-hit city during the recent conflict, access to essential supplies, such as food, nappies and soap, primary healthcare and chronic disease medication has dwindled, as the separatist government has failed to roll out an effective system to replace the defunct Ukrainian one.
No more welfare system
While more than half the city fled the crossfire, those too frail to move or those with absolutely nowhere to go stayed at home or in orphanages, geriatric pensions and hospices for disabled people.
But these government structures, which used to receive funding and social benefit payments – including budgets for hospitals, pensions, and social security – before they fell under separatist-controlled territory, have not received a penny since November last year.
For all of Russia's influence in the region, the motley local leaders in the Lugansk separatist government have been left to their own devices: 10 months after pro-Russian activists seized control of Luhansk, it is clear that Vladimir Putin has no intention of annexing it, as he did with Crimea.
"All the people depending on the welfare system are not receiving any handouts from the (separatist) government, which means that people that are the most vulnerable – people relying on state benefits, the elderly and disabled, don't have money to buy medication," Emilie Rouvroy, Médecins Sans Frontières' coordinator in Lugansk told IBTimes UK.
"Social facilities like orphanages, retirement houses and hospices for disabled people need everything, including the most basic thing: nappies. They don't have cleaning materials or soap, and depend on charity and humanitarian organisations but this is not enough."
Half the doctors have deserted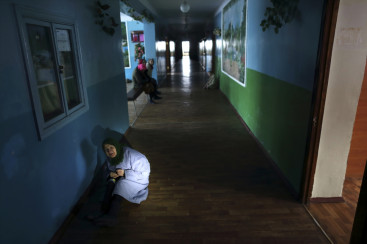 While medical facilities have been damaged and destroyed by months of shelling, the shortage of available medicine in Luhansk also means the price of existing drugs or products is becoming increasingly unaffordable.
As banks have also stopped functioning, people are without salaries and pensioners within institutions are receiving rice and a meat cans in lieu of their pension.
They can no longer afford to pay for the services. Staff have left. In some social facilities, between 20% and 50% of doctors have deserted.
"You had structures where you would have had general practitioners, paediatricians or professionals specialised in geriatric care, as well as psychiatrists: it used to function quite well but now they don't have a regular supply of medication and not enough resources any more. The service is disrupted," Rouvroy said, speaking from Luhansk.
Elderly pensioners in retirement homes have not taken their medication in months, and patients who once underwent treatment for cancer, HIV or tuberculosis at local hospitals have had to interrupt their life-saving therapy.
"All treatments, including cancer, heart disease or hyper-tension, diabetes, asthma, got cut: patients' conditions are worsening."
Some say they are just leaving their survival in the hands of god.
Urgent need for new welfare system
At the beginning of their intervention in Luhansk, MSF supported mainly hospitals on both sides of the frontline, delivering medication for the war-wounded and emergencies.
In recent months, however, the organisation has had to expand its work "after seeing that the need is even more important for chronic diseases and primary healthcare".
In just the first three weeks, MSF doctors carried out more than 1,000 consultations.
"We are a medical emergency organisation and will not be here forever. We are not willing to replace the Ministry of Health of the local authorities."
- Emilie Rouvroy, MSF
MSF is now working in more than 20 locations with mobile clinics, where Rouvroy says there are more than 100 patients queuing up every day to be treated.
"When we do mobile clinics, we have more than 100 or 150 patients coming in daily. In some places it's up to 200."
Travel restrictions imposed by the Ukrainian government are also contributing to serious delays in the delivery of humanitarian aid - particularly medicines and medical equipment, according to Human Rights Watch.
While MSF says it will continue its work in eastern Ukraine, the Luhansk coordinator says time is ticking for the separatist government to start implementing a stable welfare system in the area that has not had water or electricity for nearly a year.
Rouvroy added: "We are a medical emergency organisation and will not be here forever. We are not willing to replace the Ministry of Health of the local authorities; each side should take responsibility and take adequate actions to make it work to ensure that civilians have access to basic and medical care."
More than 4,000 people have died in the Donetsk and Lugansk regions since the fighting began, despite a fragile ceasefire coming into effect on 15 February.