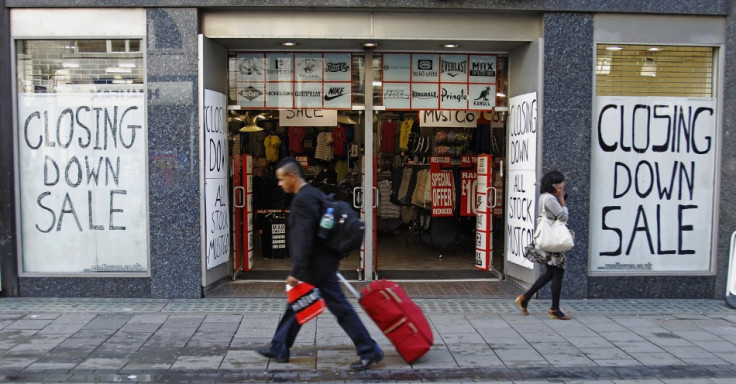 Britain's economic recession could be linked to as many as 1,000 suicides from 2008 through 2010, researchers warn.
The number of suicides in England rose by 8 percent among men and and 9 percent among women in 2008, reversing 20 years of decline, as the UK wallowed in the depths of recession.
Researchers argue that the financial slump experienced by the UK during that period, and the resulting increase in unemployment, bore a heavy human cost.
In a paper published on bmj.com, authors from the universities of Liverpool and Cambridge and the London School of Hygiene found that 846 more male suicides and 115 more female suicides took place in that two-year period than anticipated by previous trends.
Using data on suicides from the National Clinical and Health Outcomes Database, covering the years 2000-10, they found that each annual 10 percent increase in the number of unemployed was associated with a 1.4 percent increase in the number of male suicides.
The authors, Ben Barr, David Taylor-Robinson, Alex Scott-Samuel and David Stuckler, write: "Our analysis indicates that increases in male unemployment were associated with about two-fifths of these rises in suicides among men in England during the recession.
"Local areas with greater rises in unemployment have also experienced higher rises in suicides, although this level was significant only among men, possibly because the suicide rates among women are only about a third of those among men."
The number of unemployed men rose on average across the UK's regions by 25.6 percent each year between 2008 and 2010, which was associated with a yearly increase in male suicides of 3.6 percent, corresponding to 329 additional suicides.
The authors stress that the study can't prove a causal association between job losses and suicides, although there was a small reduction in suicides in 2010, following a slight recovery in male employment.
Policy implications
The authors believe that their findings have important implications "for those seeking to protect the most vulnerable people in the ongoing economic recession".
They suggest that government can reverse the trend toward increased suicide during economic distress with policies that promote re-employment.
"Austerity measures in the UK are exacerbating unemployment and reducing growth," they write, pointing to some commentators' suggestions that the government should aim to "promote employment through state-led social investment in infrastructure, industry, education, early years support, and improved working conditions."
They argue that the UK's slow economic recovery has become a pressing public health issue.
"There is a danger that the human cost of continued high levels of unemployment will outweigh the purported benefits of budget cuts," they conclude.