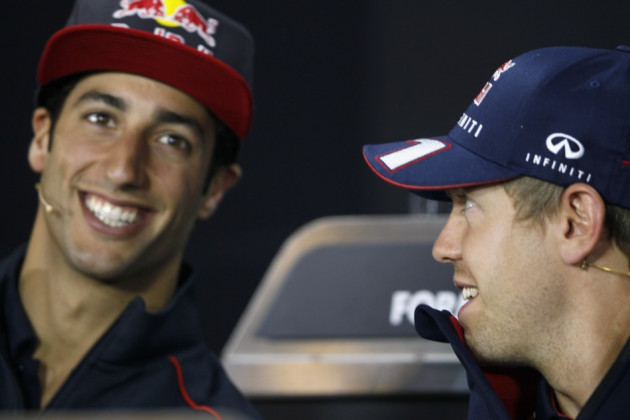 Daniel Ricciardo will have the chance to impress Red Bull Team Principal Christian Horner later this afternoon when he takes part in the Young Driver Test at Silverstone alongside fellow youngsters Antonio Felix da Costa and Carlos Sainz Junior.
The 24 year old will seemingly be taking part in an audition as the triple contructors' champions looks to find a replacement for current driver Mark Webber who will leave the sport at the end of the season.
Lotus driver Kimi Raikkonen and Ricciardo are believed to be vying for the vacant seat next season and if the young Australian manages to make a positive impact in testing then he may well become the firm favourite.
Red Bull have come under pressure to show that their driver programme can be successful as so far in nine seasons in F1, only one driver has graduated from sister team Toro Rosso to a seat at the senior team.
That one driver may well be three-time world champion Sebastian Vettel but there is a growing feeling that Ricciardo will be preferred over Raikkonen if he performs well at Silverstone this week.
Da Costa will drive on the opening two mornings, while Ricciardo and Webber will run on Wednesday and Thursday afternoon respectively.
Sainz Junior will have his opportunity on the final morning before Vettel takes over and is handed the chance to test the new Pirelli tyres in the afternoon.
Both Ricciardo and Sainza Junior will also test for Toro Rosso alongside Jean Eric-Vergne, Johnny Cecotto and GP3 driver Danii Kvyat.
"I can't still believe what I have ahead of me this week Sainz wrote on Twitter. "Two different F1 teams in 24 hours. A great opportunity that I'll try to maximise!"