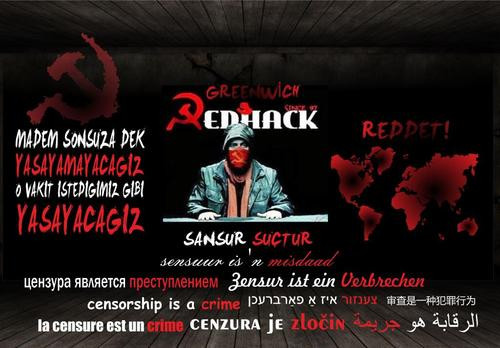 A Turkish cyberactivist group called RedHack has published the names and phone numbers of 5,000 Vodafone customers asking why the mobile giant is keeping voicecall logs of its customers.
Earlier on Tuesday the group, which is a Marxist-Leninist hackers collective, published over 600 records relating to Turkish government officials after breaching the security of Turkey's biggest internet service provider TTNET.
It has now published 5,000 records from a database of Vodafone customers in Turkey, including names, dates of birth, phone numbers, and voicemail delivery details. The information has been posted on the JustPaste.It website.
Protect the public
However thwe group has redacted some of the information in order to "protect the public" it said, asking "Why would Vodafone keep log of voicecalls made in Turkey?"
Ahead of releaseing the latest cache of hacked information, RedHack said on Tiwtter: "Let's continue our action against Telecom Firms. Vodafone has shown great interest in controlling the global internet and lobbys USA and EU to give them the biggest piece from the cake. But yet again they are unable you protect their own systems."
According to a spokesperson speaking to Softpedia, RedHack is in possession of a cache of half a million voicemail log records for the Istambul area over a period of two days.
The group announced this week it had breached teh security of TTNET, Vodafone and Turkish mobile network TurkCell and it is planning on releasing the data from the TuckCell hack tomorrow.
Defacement hacking
RedHack is a hacktivist group established as far back as the late 1990s. It typically uses "defacement hacking" to "raise awareness of the poor against the elite that tries to strip our rights and freedoms" according to the group's website.
RedHack has been a target for the police in Turkey for many years but the authorities have so far failed to track down the group.
In May, 2012, the cyberactivist group attacked the websites of milk companies following a scandal in which hundreds of children were poisoned by state-distributed milk in schools.
Just last month the group once again breached the TurkCell security and released the phone numbers of more than 4,000 individuals who worked there.