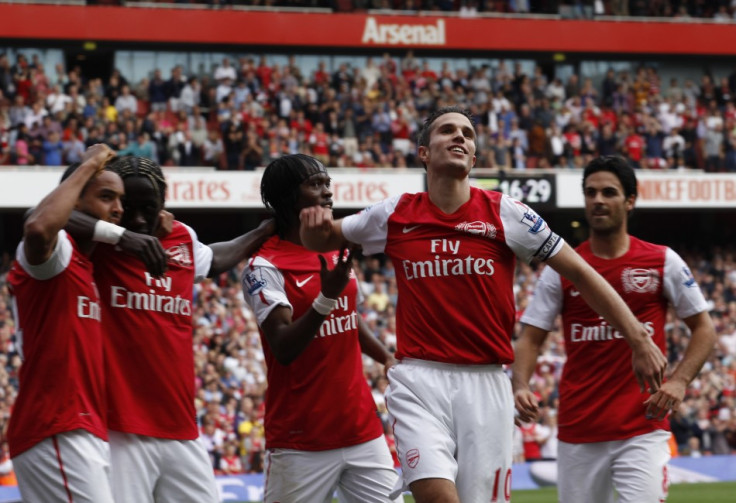 Jamie Redknapp has lauded Robin van Persie's efforts at the weekend, as Arsenal stole a win over Everton to heap pressure on rivals Tottenham and get back into the top four.
The Gunners were thought to be done and dusted at the beginning of the season, particularly with the loss of Samir Nasri and Cesc Fabregas, and an 8-2 thrashing at the hands of Manchester United the day before deadline day.
But Arsenal have recovered from their terrible start to the campaign, and have now overtaken Chelsea to join the top four, standing just three points behind Spurs. The side also proved the critics wrong by being the first in England to qualify for the Champions League final 16, finishing at the top of their group with a game in hand.
And Redknapp believes that van Persie is destined for greatness at Arsenal, as the side unveiled three statues to commemorate legends Thierry Henry, Tony Adams and Herbert Chapman last week.
"How long before Arsenal are building a statue of Robin van Persie, their remarkable goal machine?" he wrote in his column for the Daily Mail.
"I love a volley and that execution against Everton, on the occasion of the club's 125-year anniversary, was a brilliant way to win the game with so many Arsenal legends there to watch, including Thierry Henry and Ian Wright.
"Both would have been proud of that one."
Arsenal are clearly reliant on van Persie in many ways as they continue their stunning return to top form. The striker has scored 15 times in the league alone this season, along with four times in Europe, and with his contract currently expiring in 18 months, the Gunners are keen to sign him on and create another star the likes of goal scoring King Henry.
Arsenal chairman Peter Hill-Wood said last month that van Persie's contract situation would be discussed at the end of the season, telling reporters: "He doesn't want to talk about it and we're not troubling him. We'll approach him near the end of the season.
"We hope he will sign a new contract - I don't see why he should not."
Van Persie's reluctance to sign a new deal could come down to whether Theo Walcott, Andrey Arshavin and Johan Djourou also sign new contracts at the club, with the quartet all free to leave in the 2013 summer.