Greek rescue workers have mounted an operation to recover survivors of two separate incidents where boats sank in the Mediterranean; they are already known to have claimed the lives of 42 migrants. The refugees were travelling the infamous route form Turkey to Greece's Aegean islands, which claimed the life of three-year-old Syrian boy Alan Kurdi.
Just off the Turkish coast, a wooden boat sank near the Island of Kalolimnos, killing 34. Twenty six people were rescued from the sea with coastguard boats, private vessels and helicopters conducting a search for survivors. Authorities said they had recovered the bodies of 16 women, 11 children and seven men throughout the day.
To the north, the coastguard said a wooden vessel carrying 48 people sank in the early hours of 22 January. Forty passengers were able to make it to shore on the small Greek island of Farmakonisi, with one young girl plucked from the sea by rescue workers. eigh tbodies were recovered from the waves, AP reported, six children and one woman.
The losses off Turkey and Greece follow the deaths of 40 people in the seas to Europe since the start of 2016. Deteriorating weather conditions including plummeting temperatures, which increase the likelihood of death from hypothermia, have made crossings more treacherous but that has not deterred refugees and migrants from trying to reach Europe.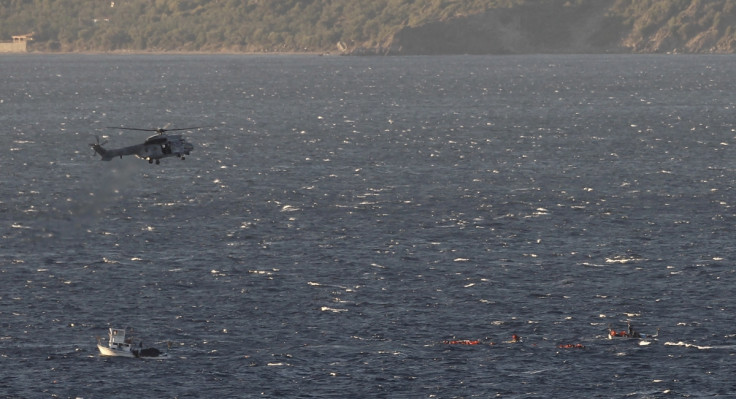 Aid agencies had expected number of individuals trying to reach Europe – most of them Syrian refugees fleeing their country's bloody civil war – to fall in the winter months. The lack of a significant decrease is an indication of the terrible conditions the people face in their native countries, NGO workers have said.
Thousands of migrants arrive in Europe every day. In 2015, more than one million migrants and refugees arrived in Europe, according to monitoring organisations. The International Organization for Migration said the record threshold of one million entries into Europe was reached on 21 December 2015. The vast majority of arrivals were recorded in Greece, with 800,000 people landing there after treacherous sea crossings from Turkey.