Refugee crisis: Fake Google fortune teller website raises awareness about struggles
A fake fortune teller website has been set up on Google to divert people's attention to the struggles refugees face on a daily basis. The website lures people in with the promise of being able to predict their future, only to direct them to a page with a message on the refugee crisis.
When users begin to type a question into the fortune telling website, a series of prompts show up, including: "Where can I find a safe place?", "Will I be reunited with my family?" and "Is there a place where they will accept me?
Users are then diverted to a page that reads: "Of course we can't predict your future. But 60 million refugees ask themselves every day if they have a future at all. So we used a fake Google-site to get your attention because apparently you were interested in your own future. Please take a moment to think of their future."
The aim of the project was to raise awareness about the plight refugees face. The website notes a need for a "structural solution on a political level" for the unfolding crisis. It also urged people to donate their time, money and love, as well as spread the word to others to do the same.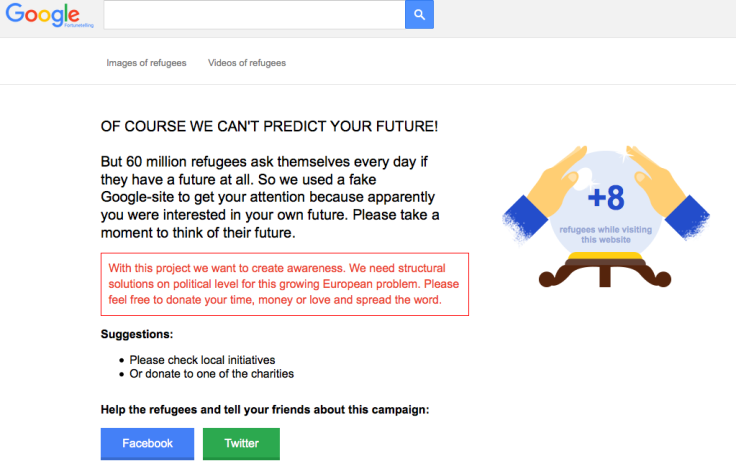 The fake website included suggestions for those who wish to contribute to helping the refugees, with one being to check local initiatives and the other to donate to a charity. The only other options on the page were for users to click to share the fake website on social media, or to view images and videos of the refugee crisis. On the right-hand-side of the page a fortune teller's glass ball displays the number of new refugees since the site was opened by the user.
While the project is not believed to be associated with Google themselves, the search engine has not shied away from getting involved in the refugee crisis in the past. The fake fortune telling website comes just weeks after Google launched a 'Crisis Info Hub' to help refugees on 23 October. Working with international organisations, the search engine set up a platform to provide refugees with crucial information that could aid them during their journey.
© Copyright IBTimes 2023. All rights reserved.