Support for the resettling of 20,000 refugees from Syria in the UK has plummeted in the wake of the 13 November Paris attacks, as the first of the vulnerable individuals – mostly families – have begun arriving in Scotland.
A survey of the public has shown the number of Britons against the arrival of the refugees from the Syrian civil war had increased by 22% since September. The poll by YouGov on behalf of the Times has shown in the wake of the shootings and bomb attacks in the French capital that now 49% believe Britain should close its door to Syrian refugees.
The discovery of a Syrian passport stamped in Greece, possibly belonging to one of the attackers, at the scene of the Bataclan theatre massacre, has added fuel to fears that Islamic State terrorists could exploit routes used by refugees to enter the European Union.
The poll shows that the outpouring of public sympathy for Syrian refugees following the death of Alyan Kurdi as his family attempted to reach Greece has been severely reduced by the killings in Paris.
Local authorities in Scotland had tried to assuage fears over the arrivals of the first groups of Syrian refugees. Argyll and Bute Council, which will take 15 refugees, has stressed that in keeping with the UN's Vulnerable Persons Resettlement Scheme refugees had gone through extensive security screening which included biometrics, documentary evidence and interviews.
However, the assurances have not stopped a public backlash in Scotland which now finds itself at the forefront of the UK's refugee debate. Two days after the attacks in Paris the Scottish Defence League held a demonstration in Monkton in South Ayrshire, protesting the housing of refugees at a nearby hotel.
Police Scotland are also investigating a potentially racially motivated arson attack on a Muslim community centre in Glasgow, where the first refugees have already arrived. Police are also looking into threats against the Scottish minister for international development Humza Yousaf, one of the SNP's main proponents of refugee resettlement.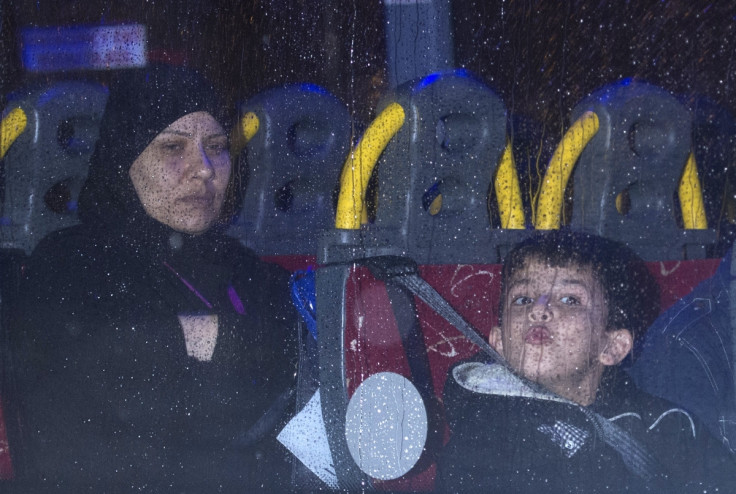 Downing Street has said 1,000 refugees will arrive in the UK before Christmas. More than 45 local authorities – stretching from the south-east of England to the north of Scotland, from the west of Wales to Northern Ireland will accept the Syrians over the coming months. Talks are continuing with dozens more authorities who are keen to help as the scheme is expanded further in the new year.
Anti-refugee sentiment has grown across the UK. A cartoon in the Daily Mail newspaper comparing the flow of migrants into the EU to rats has received widespread criticism in the left- wing press and social media but has garnered supportive comments on the newspaper's own website.
Councils that have accepted the Syrian refugees are now committed to moving ahead with the settlement programmes and those still in support of the arrival of refugees are planning marches across Scotland and elsewhere in Britain on 28 November in a show of solidarity.