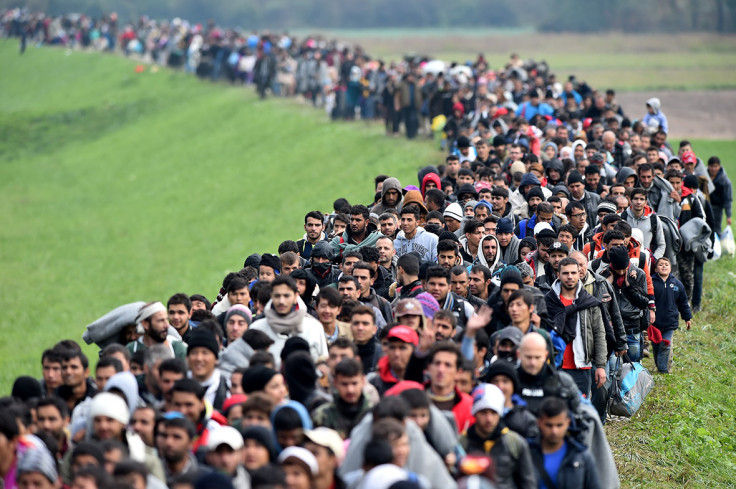 David Cameron must do more to alleviate the refugee crisis in 2016 after the government's "clearly inadequate" response last year, a group of leading aid charities has said. An open letter signed by 27 agencies, including Oxfam, the International Rescue Committee and Amnesty International, called for the prime minister to undertake a "new resolve" to tackle the problem in the new year.
The letter, published by the British Refugee Council on 3 January, says the UK should take a "fair and proportionate" share of refugees, as well as establish safe and legal routes for refugees seeking protection to travel to the UK.
It described Cameron's pledge that the UK would resettle 20,000 refugees over five years as "too slow, too low and too narrow", adding: "The UK can and should be doing much more to ensure that refugees are not compelled to take life-threatening journeys or forced into smugglers' hands."
It comes as 2015 saw Europe face the biggest refugee crisis since the Second World War with more than a million migrants and refugees crossing into the continent last year. Many have come from war-torn countries like Syria and Iraq and some 3,770 people drowned while trying to reach the continent by sea in 2015, the aid agencies said.
Referencing the adoption of the Refugee Convention by European governments soon after the Second World War, the charities told Cameron: "As a nation, we made a promise: that never again would refugees be left out in the cold to fend for themselves; that this country would protect them; that here, they would find a safe haven. We urge you to keep that promise."
Several agencies which signed the letter also launched separate attacks on the government. Penny Lawrence, Oxfam's deputy chief executive, described the UK's response to the crisis in Europe as "lacklustre at best, mean spirited at worse", adding: "Last year more than a million desperate people made the hazardous journey into Europe seeking sanctuary.
"The numbers are huge but each one is a person: a brother, a mother, a daughter, a loved one. In the face of such levels of human need the government needs to do more to provide a safe haven."
The International Rescue Committee said Downing Street was "burying its head in the sand about the sheer scale of the problem", adding: "The government needs to wake up to the scale of the challenge we're facing, and recognise that resettling 4,000 refugees per year – only six people per parliamentary constituency – is woefully inadequate."
Maurice Wren, chief executive of the Refugee Council, pleaded for Cameron to "open his heart" by welcoming in more refugees, adding: "There are no easy answers to a humanitarian crisis of this magnitude. However, the solution must not be to spend another year impassively watching on while desperate people drown or are forced to endure a march of misery across the continent as they try to find a safe haven or to be reunited with their loved ones."
The letter welcomed, however, the "leading role" the government had played in offering international aid to places affected by conflict and for helping refugees in Greece and the Balkans. A government spokesperson said: "The terrible images we have seen in the last year have moved us all, strengthening our resolve to help prevent more people suffering such a fate.
"That is why we are resettling people directly from the countries neighbouring Syria, to which so many refugees have fled, and we have already met our target of welcoming 1,000 of the most vulnerable before Christmas.
"The UK is also playing a leading role providing life-saving aid to those most in need, both in the Syrian region, where we have pledged more than £1.1bn ($1.6bn) in humanitarian aid, and in Europe. It is essential that we focus our support where we can make the biggest impact."
Signatories include: ActionAid UK; Amnesty International UK; Asylum Aid; Bond; British Refugee Council; CAFOD; Christian Aid; City of Sanctuary; CSAN (Caritas Social Action Network); Doctors of the World UK; Freedom from Torture; Greenpeace UK; International Rescue Committee UK; Islamic Relief UK; Joint Council for the Welfare of Immigrants; Liberty; Muslim Charities Forum; North of England Refugee Service; Oxfam GB; Refugee Action; Responding to Conflict; Scottish Refugee Council; Student Action for Refugees; Welsh Refugee Council; Women for Refugee Women; World Vision UK; and Y Care International.