Refugee crisis: Thousands of refugees head to Croatia after Hungary's violent crackdown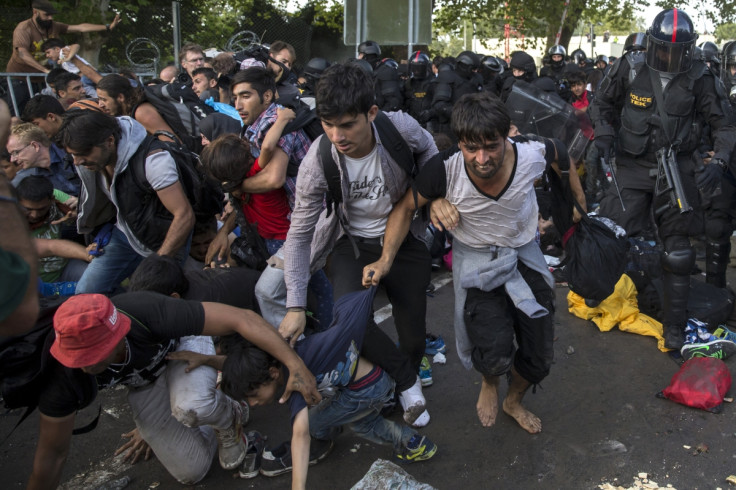 The vast majority of refugees who amassed at the Hungary/Serbia border have left to cross into Croatia after Hungary sealed the frontier and launched a violent crackdown on them.
Croatia's interior ministry said that the number of people arriving in the country has topped 6,200 as thousands left Horgos, on the Serbian side of the border, after Hungarian police fired tear gas and water cannon at refugees breaking through the razor-wire security fences.
"I expect the Horgos camp to empty in a couple of days," Jota Echevarría, medical team leader for aid agency Médecins Sans Frontières (MSF), told IBTimes UK. "Most of the 5,000 who had gathered at the Horgos border point are heading to the Croatian border and from there they will try to reach Slovenia, which is in the European Union."
Slovenia said it will reinstate border control at the border with Hungary. Prime minister Miro Cerar said checks on its frontier with Croatia are in line with the Schengen agreement.
Echevarria, who was at the camp during the clashes, described the stand-off between Hungarian riot police, supported by Humvee military vehicles mounted with guns, and thousands of refugees, mostly from Syria as a "dire and quite tense situation".
"We treated 300 patients there, 30% of which were children exhausted and tired of walking. Around 120 people were taken to the hospital by Serbian ambulance," he said. The MSF team also treated one plastic bullet wound, which Echevarria said could be related to the capsules of tear gas shot to the ground. He also reported that a Hungarian army helicopter apparently threw tear gas into the crowd, provoking criticism from the Serbian government.
Aurelie Ponthieu, MSF's advisor on displacement, said: "Using such excessive force against vulnerable people to prevent them from seeking safety is a disgrace and utterly shameful."
One man said he was beaten by police; most of the wounded were affected by tear gas in the eyes; some of the refugees had fractures to their ankles.
Three international journalists were among those beaten by the Hungarian police, according to reports in the Hungarian media. Two of them are Australian citizen Warren Richardson and Polish reporter Jacek Tacik.
Hungary's government spokesman Zoltan Kovacs said that an unidentified Syrian man, he called a "terrorist", was one of the organisers "who specifically directed the attacks". Police detained 22 people who managed to break through the fence, including the alleged terrorist.
Serbia prime minister Aleksandar Vucic, speaking in the United States, called for a European response to events on the Hungarian border: "I call on the European Union to react, for its members to behave in line with European values. If the EU does not react, we will find a way to protect our borders and European values as well," he told Serbian state television.
Antonio Guterres, the UN High Commissioner for Refugees, said he was "saddened to witness Syrian refugees, including families with children who have already suffered so much, being prevented from entering the EU with water cannon and tear gas."
© Copyright IBTimes 2023. All rights reserved.