Hungarian officials claim to have arrested a terrorist with 29 other migrants during their continuing crackdown on refugees arriving on the country's Serbian frontier. Violent and chaotic scenes erupted at Hungary's border with Serbia as authorities deployed water cannon sand tear gas to stop migrants breaking through razor wire security fences.
UN Secretary General Ban Ki-moon said he was shocked by the events and that the treatment of asylum seekers was "unacceptable".
Speaking on state television Gyorgy Bakondi, a security adviser to Hungarian Prime Minister Viktor Orban said: "Police also captured an identified terrorist." He added that the individual had been "in the database of security services," according to Reuters.
The stand-off between riot police (supported by Hungarian military Humvees mounted with guns) and thousands of refugees mostly from Syria entered its second day in Hungary after an emergency law passed by the country's right wing government came into effect.
Under the new regulations, entering Hungary illegally or damaging its hastily erected frontier fences - which are four meters high and 110 miles long and set to be completed in October - carries a possible three year jail term.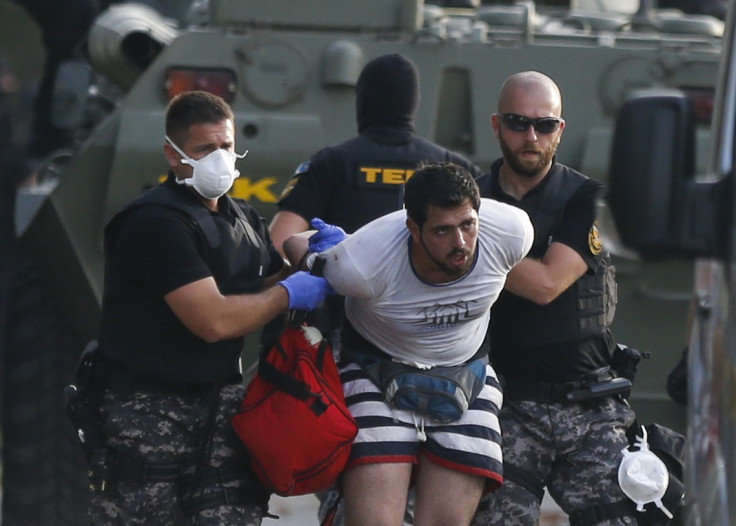 In response to the restrictions imposed by Hungary, a "frontline nation" in the 28 member European block, refugees and migrants have begun walking en masse to Croatia to seek entry into the European Union. Roughly 4,000 individuals are believed to have passed into Croatia in the last 24 hours where they are being greeted and placed on buses to the country's capital Zagreb for processing.
Serbia Prime Minister Aleksandar Vucic, speaking in the United States, called for a European response to events on the Hungarian border: "I call on the European Union to react, for its members to behave in line with European values. If the EU does not react, we will find a way to protect our borders and European values as well," he told Serbian state television.
Antonio Guterres, the UN High Commissioner for Refugees, said he was "saddened to witness Syrian refugees, including families with children who have already suffered so much, being prevented from entering the EU with water cannon and tear gas."