Refugee crisis: Turkey demands €3bn more from EU to take back Syrian migrants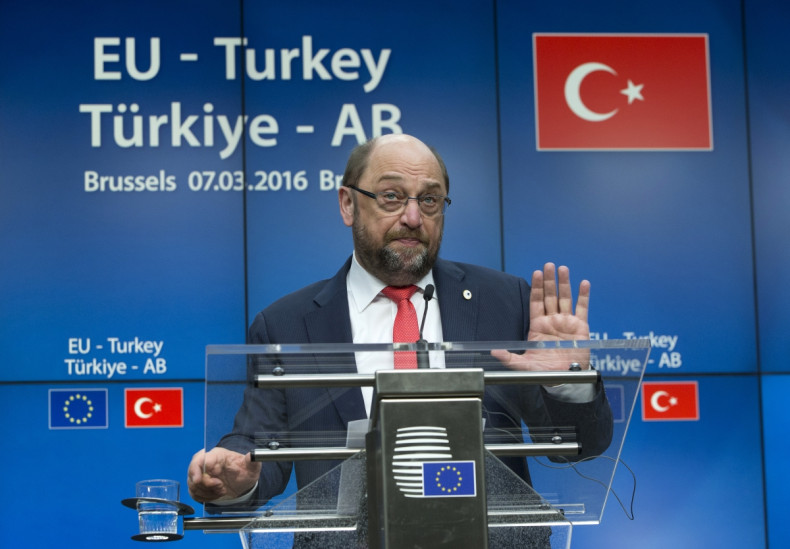 Turkey has demanded the European Union pays an additional €3bn (£2.3bn, $3.3bn) in return for it taking back thousands of migrant that crossed to Greece and further its help in stemming the influx of people. The request was formulated at an ongoing key summit on the migrant crisis between EU leaders and their Nato partners in Brussels.
The 28-nation bloc is asking that Ankara does more to curb the number of people arriving in Greece aboard rickety boats. "To avoid refugees arriving in Greece we have to cooperate with Turkey," French President Francois Hollande said at the meeting.
According to a draft proposal of the agreement seen by Reuters, the Turkish government is ready to take back every single person that reaches Greece illegally from its coasts, under the condition that the EU covers all costs and doubles its earlier pledge of €3bn in aid to help refugees in the country. The extra funds will have to be delivered by 2018.
The readmission process will start only after all asylum-seekers that are already on one of the eastern Greek islands where most disembark are evacuated somewhere else and is to concern only new arrivals.
Turkey, which already houses about 2.75 million refugees, mostly from neighbouring Syria, has also required that for every Syrian refugee that is returned from Greece, another is resettled from Turkey to an EU member state through an alternative official route.
Dutch Prime Minister Mark Rutte, who holds the EU's rotating presidency said: "We will need to bring relief to Turkey, and that means you have to be willing to take people in from Turkey" who are the most likely to qualify for asylum, he said.
Playing on EU leader's desperate need to find a solution to mass migration that is threatening the Union's own existence, Ankara also demanded a relaxation of visa rules scheduled for the end of the year is fast tracked to June. It also relaunched its candidacy to join the bloc, which has been in mothballs for years.
"Turkey is ready to work with the EU, and Turkey is ready to be a member of the EU as well," Prime Minister Ahmet Davutoglu told reporters. His government's fresh demands are to be discussed at a summit dinner that was purposely added to the meeting program.
More than 130,000 migrants have crossed the Mediterranean this year so far, according to the International Organisation for Migration. The figure is more than six-folds higher than in the same period in 2015, when a record one million people reached Europe throughout the year.
The unprecedented influx that has seen thousands marching from Greece up the Balkans to central and northern Europe has shaken one of the EU's pillars, the Schengen agreement on passport-free travel, as a number of member states have unilaterally imposed border controls to stop migrant crossings.