Refugees in Como: 'We beg Switzerland to open the borders, we don't want to stay in Italy'
IBTimes UK speaks with refugees left stranded in Como as Switzerland denied them access.
Joy, a 20-year-old Nigerian girl, is among dozens of refugees who have been living in tents outside a train station in the city of Como, northern Italy. People from countries such as Nigeria, Eritrea, Ethiopia and Ghana are here trying to cross into Switzerland to continue their journey to other European countries, such as Germany and Holland.
Switzerland, however, has denied access to the hundreds of refugees claiming they do not have the right documentation to be able to enter the country.
As a result, hundreds of people have been left stranded in Italy, a country where they do not want to apply for asylum, given the perceived lack of economic opportunities.
"We are begging Switzerland to open the borders for us, we don't want to stay in Italy," Joy told IBTimes UK. "There are no jobs in Italy and if you don't speak Italian you cannot work. Even if you speak Italian, if you don't have the right documents, you cannot work. The situation is not good, many people are sick and hungry."
Joy and her husband fled Edo State, southern Nigeria, after members of another ethnic group tried to kill them. They want to cross into Switzerland and continue her journey to Germany, where they hope they can start a new life and raise their one-year-old son, who is still living with Joy's relatives in Nigeria.
"People think Nigerians only leave because of Boko Haram terrorists, but Boko Haram has nothing to do with me," Joy explained. "Nigeria is a dangerous country I cannot go back because my life is in danger. The Swiss just sent us back without explanation and this is not fair, we are humans, not animals."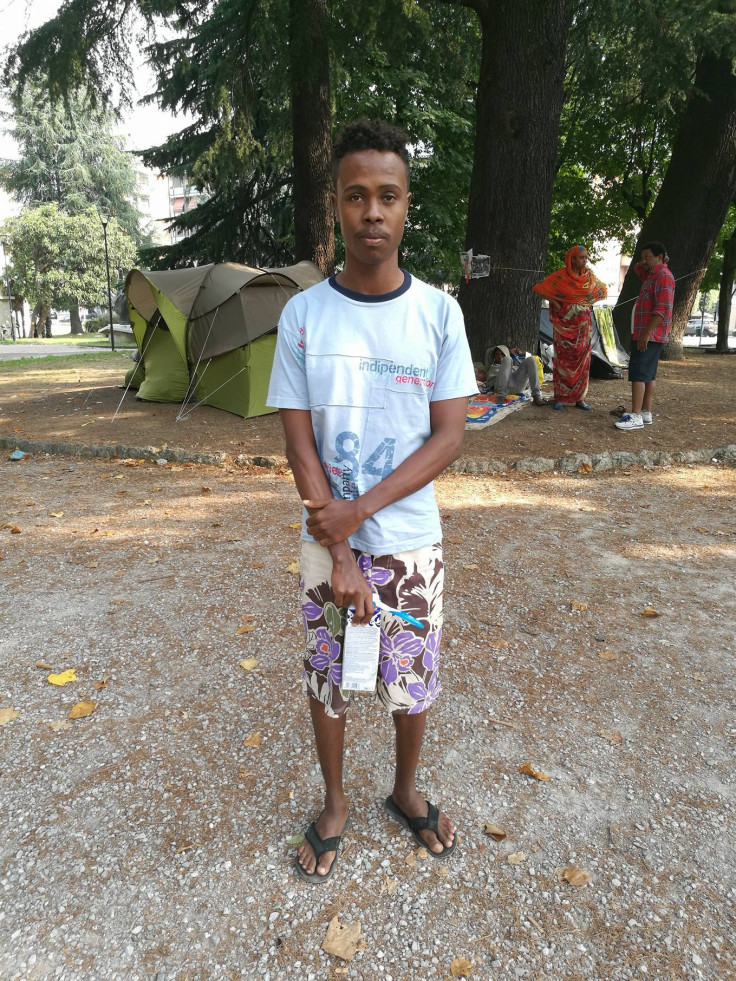 Kuma, 16, fled Ethiopia after his father was allegedly killed by the government in Oromia state
Ludovica Iaccino for IBTimes UK
A few metres across Joy's tent stood Kuma, a 16-year-old Ethiopian boy who fled Oromia, Ethiopia's largest state, after the government allegedly killed his father, who was a politician.
"This happened because I am Oromo and the Ethiopian government doesn't like Oromo people," Kuma alleged.
Kuma fled his country as the Ethiopian government cracked down on protesters in Oromia, where people staged demonstrations calling for self-determination and self-rule.
Authorities have been accused of killing and jailing hundreds of people, with human rights organisations urging the government to start an independent and impartial investigation on the alleged violence.
Before reaching Como in August, Kuma spent two months in a detention centre in Libya.
"I left Ethiopia because I didn't have another solution," Kuma explained. "Como people are very good, they help us a lot and we appreciate that, but the situation is very bad. I don't want to stay here because I need to think about my future.
"I am trying to go to Switzerland to find a job. My mother is still in Ethiopia and I wish she could come as well. I would like to become an international football player."
Switzerland has come under fire for its decision to tighten border controls with Amnesty International demanding clarification from Swiss authorities after reports alleged children who tried to join their parents in Switzerland had been sent back to Italy.
Earlier in September, Swiss MP Lisa Bosia Mirra was held – and subsequently released – by Swiss guards in Stabio, on the border with Italy, as she tried to help four migrants (all minors) illegally cross into Switzerland. She was accused of fostering illegal immigration.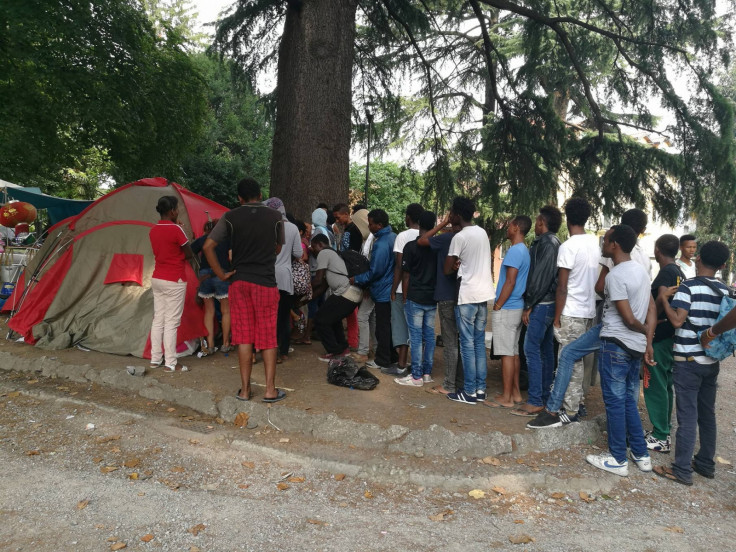 A dialogue with refugees
The Catholic charity Caritas, in collaboration with the Red Cross, has been coordinating aid deliveries to the refugees.
Roberto Bernasconi, director for the Caritas branch in Como, told IBTimes UK the NGO set up toilets and collected foods and clothes without asking for any donations. He then added that a cultural mediation with the refugees is also necessary to solve the problem.
"This state of emergency is not going to end tomorrow. We need to talk with these youths who leave thinking that countries in northern Europe are open, and that's not the case. They need to understand what's best for them," he said
"We can help them, but a solution to their problems can be provided only with a serious political commitment by European leaders. Because this is a unified territory so people should be free to roam and have the right to choose their journey, their future.
"We need to understand that these youths, most often, flee trying to escape death and we need to change approach towards the countries these people come from. For example, we need to stop supporting these governments and selling arms to them. Let's tackle the root causes of the problem."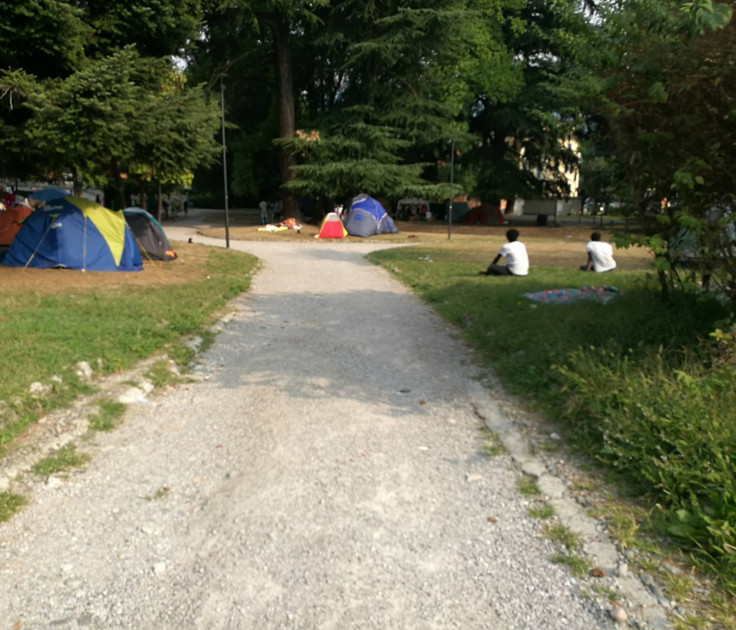 Temporary shelter and far right protests
Given the high number of refugees in Como, local authorities are setting up a temporary shelter for as many as 400 migrants unable to continue their journey. The shelter will open in mid-September in Regina Street and will host 50 pre-fabricated modules and showers, bathrooms and a small health clinic.
"Italy and Switzerland have been talking about the situation, I don't know the details, but I can say that the talks aim to reach a solution to this problem and guarantee that people from certain countries – such as Eritrea, Syria and Iraq – will be automatically recognised the right to be relocated, according to agreements made in 2015," Mario Lucini, the Mayor of Como, told IBTimes UK.
He added that hundreds of Como citizens have been volunteering to solve the problem.
"Some far right members have tried to protest against the presence of the refugees, which they used as a political tool, but very few people took part in the protests, which died down quite quickly. The majority of citizens are trying to help," Lucini continued. "However, we must be alert, as there is always the possibility that the current climate might change."
© Copyright IBTimes 2023. All rights reserved.