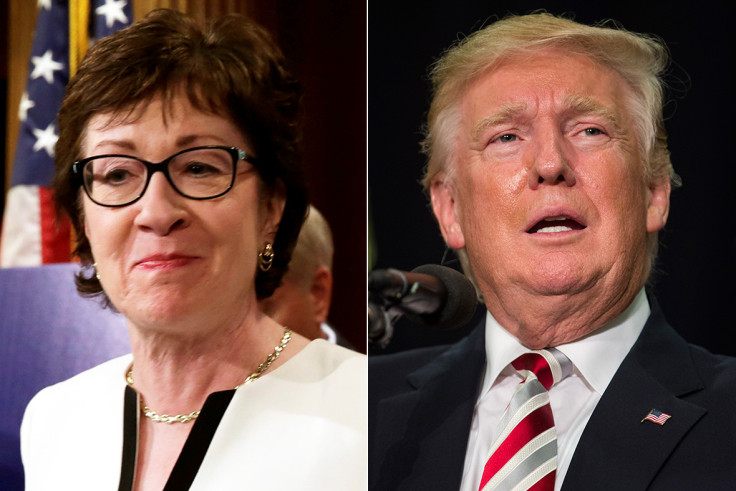 Maine Republican senator Susan Collins has written an open letter explaining why she won't be voting for her party's presidential candidate Donald Trump despite being in the GOP for more than 20 years.
Collins, who was named one of the most powerful women in Washington by Elle magazine, wrote in a letter for the Washington Post that among other issues Trump's 'pattern of abuse' did not make him a suitable candidate.
She wrote citing several instances Trump had spoken out of turn, including mocking a reporter with disabilities and stating a Mexican American judge could not rule fairly in the Trump University case.
Collins added of Trump's criticism of the parents of fallen US soldier Capt Humayun Khan: "It is inconceivable that anyone, much less a presidential candidate, would attack two Gold Star parents. Rather than honouring their sacrifice and recognizing their pain, Mr Trump disparaged the religion of the family of an American hero. And once again, he proved incapable of apologising, of saying he was wrong."
Her comments come as former chief policy director in the House of Representatives Evan McMullin announced his intention to run as an independent conservative candidate – no doubt hoping to steal away GOP voters who aren't happy about Trump being their party's nominee.
Indeed, McMullin may well find there is a large swathe of voters within the Republican Party who would sooner back an independent candidate from within the fold than a GOP candidate who began as a party outsider and has not persuaded many key insider figures.
Pre-empting the Republican backlash against her position, Collins added: "Some will say that as a Republican I have an obligation to support my party's nominee. I have thought long and hard about that, for being a Republican is part of what defines me as a person.
"I revere the history of my party, most particularly the value it has always placed on the worth and dignity of the individual, and I will continue to work across the country for Republican candidates. It is because of Mr Trump's inability and unwillingness to honour that legacy that I am unable to support his candidacy."