The Germans have been named the best nationality in the world for the sixth year in a row, according to an index measuring the value of 195 nationalities.
The Kochenov Quality of Nationality Index (QNI), conducted by Henley & Partners, takes into account a wide range of factors, including the country's economic growth, its level of human development and the extent to which its citizens enjoy travel freedom and the benefits of a globalised world.
Germany scored 82.7% on the index, followed closely by Denmark and France, who came joint second at 82.4%.
A decade ago, Germany was labelled the "sick man of Europe", but it has asserted its position as the continent's "engine of growth" since Angela Merkel became chancellor in 2005.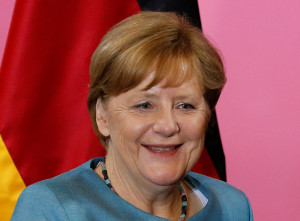 The country's strong economy and fast-growing GDP, along with its high score on the UN's Human Development Index (HDI) – which takes into account life expectancy, income per capita and education – are driving factors behind Germany achieving the top QNI score.
Last month, the International Monetary Fund (IMF) commented on Germany's booming economy and its bright economic growth forecast.
"Employment growth is strong, the unemployment rate is at a record low, output growth is above potential and the fiscal position keeps strengthening," the IMF's latest report read.
Another key factor that places Germany at the top of the list is the travel freedom its citizens enjoy.
"With visa-free or visa-on-arrival access to 176 destinations, it has especially high travel freedom scores," according to QNI creator Dr. Dimitry Kochenov, a leading constitutional law professor at the University of Groningen in The Netherlands.
The UK just missed out in a place in the index's top ten countries and could slip even further after it leaves the European Union. "A hard Brexit could leave the UK with a nationality that doesn't enjoy settlement and work rights in 30 leading states, overwhelmingly impairing the quality of its nationality," according to Kochenov.
"The UK is about to establish a world record in terms of profoundly undermining the quality of its nationality without going through any violent conflict," he said, adding that post Brexit the UK would likely fall from the 'extremely high quality' nationalities to the 'very high quality' group, "changing its neighbours in the ranking from the likes of Switzerland and Germany to the likes of Brazil and Romania".
"The moral is simple: EU citizenship is an extremely valuable resource and getting rid of it — crippling citizens' horizon of opportunities — should not be taken lightly," Kochenov concluded.
Afghanistan was ranked lowest of the 195 countries in the index with a score of 14.6%, due to its poor travel and settlement freedom and weak economic strength and peace and stability scores.
Top and bottom nationalities
Germany
France
Denmark
Iceland
Sweden
Norway
Finland
Austria
Italy
Netherlands
186. Burundi
187. Pakistan
188. Syrian Arab Republic
189. Yemen
190. Sudan
191. Congo (Democratic Republic of the)
192. South Sudan
193. Eritrea
194. Central African Republic
195. Afghanistan