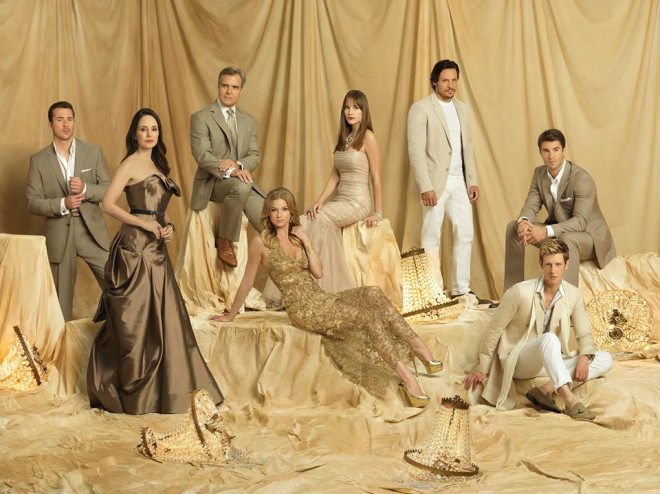 The drama quotient went high with the epic showdown of Emily and Victoria. Meanwhile, Margaux's much-discussed father arrives in town in Revenge Episode 16 'Disgrace.'
Margaux returns from Paris with her famous papa Pascal LeMarchal only to have Conrad fired but she is unaware of Pascal's wicked intentions.
Conrad wants to keep Grayson and LeMarchal's alliance alive while Victoria and Pascal have an interesting face-off.
Daniel wants a divorce from Emily and is more than happy to capture Emily and Aiden kissing. But Emily has other plans and she rejects the huge alimony that Daniel has offered her.
Victoria soon realises it's not money Emily wants, she is actually targeting her son Daniel and the family. Stevie Grayson visits Emily to understand her true identity and how she is a friend to Amanda.
Stevie seeks Emily's help to prove David Clark's innocence. But Emily turns it down. Stevie tells Jack about her meeting with Emily and wonders why she is loyal to him but does not want to help clear David's name.
Jack visits Emily after the opera and asks her about her new plan. Emily reveals her next target is Pascal and Jack decides to help her seek revenge on his girlfriend Margaux's father.
So what is ahead for Emily and her Revengeful journey in Episode 17 'Addiction?' After Emily's divorce from Daniel, she might explore her single status to solve the mystery of her dad's murder.
There is a real chance of Pascal's real motive getting exposed as he continues to mend fences with Victoria.
The official synopsis for Episode 17 'Addiction' reads: "Emily uses her newly single status to unravel a mystery from the past as Pascal attempts to make up for lost time with Victoria."
Episode 17 is directed by Tara Nicole Weyr and is written by Joe Fazzio. Revenge Season 3, Episode 17 'Addiction' will air on ABC on 30 March, 2014.
Check the sneak peek video of episode 17 'Addiction' here.