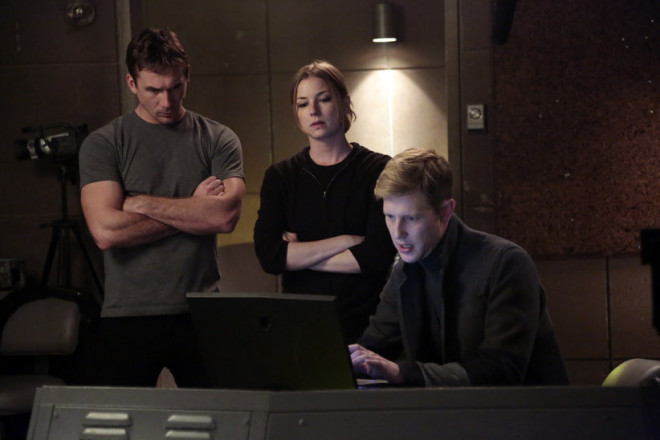 Revenge Season 3 Episode 21 titled 'Impetus' will air tonight (Sunday, 4 May) and will take forward the explosive events of last week's episode.
The new episode's promo shows that Charlotte, who was kidnapped at the end of the last episode, is in grave danger. Meanwhile, Victoria and Conrad are trying to break each other's necks and Emily visits someone in jail or alternatively, she gets jailed, reports Latin Times.
Revenge Season 3 Spoilers:
Build up to the Season 3 finale of Revenge seems to have started as the show has started to deliver major shockers – one of them being the letter that Charlotte gets in last week's episode suggesting that her father, David Clark, might still be alive!
The episode also saw the death of Pascal after Conrad pushed him into a helicopter propeller.
The synopsis of the new episode reads: "Emily is forced to take extreme measures against the Graysons - and those closest to her."
Could the 'extreme measures' be that she has her own sister kidnapped? Another popular scenario for Charlotte's kidnapping is the 'mystery man' angle - either David Clark or someone trying to pretend to be him, theorises the Latin Times report.
"Should David Clark be alive, then the entire course of the show changes. How he survived and manages to stay off the Grayson radar will be interesting to learn. Will Emily's quest for revenge still be relevant?" states the report.
Also, another shocking death awaits viewers in upcoming episodes. Emily VanCamp, who plays Emily Thorne, told the New York Daily News of the final episode of season 3: "Today, I was sobbing over the death of one of our characters. Then I'm going to do a massive fight sequence."
Revenge Season 3 Episode 21 'Impetus' will air at 10:00 pm ET/PT on ABC.
Click here to view live stream of the episode online. ABC will also put the entire episode online for free the very next day.
c