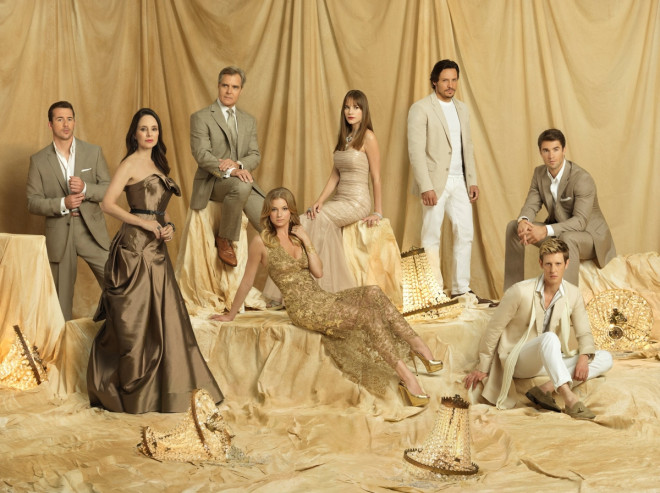 Revenge Season 3 finale may be close to two months away but according to spoilers, it doesn't look like the season will end on a bright note.
Emily Thorne and company will likely be in a world of trouble by the time the final episode airs on 11 May. The Spoiler Chat column at E! Online reports the following about the Season 3 finale:
"The season finale titled Execution will see one of your favorites in prison and not they're not having a great time in the slammer. And there's a trial. And a visit to the psych ward. And somebody's dead."
Star Nick Wechsler recently teased: "The ideas planted in this finale are awesome."
Meanwhile, two new spoiler clips of Revenge season 3, episode 16 have been released and they look pretty intriguing as one of them shows Emily having a confrontation with Stevie Grayson. The episode is called, Disgrace.
In the first clip Emily is seen telling Nolan that she can't have Daniel heavily tracking her every move. Just then, Stevie Grayson drops in demanding to know who Emily really is.
In the second clip, Emily is seen greeting Charlotte at a big party. Eventually, Charlotte introduces Emily to Pascal before he tries to go chat up Victoria. Their little conversation escalates to Victoria telling him that he'll never be able to get "lucky" with her (via hwhills.com).
Also, now that the show has moved back to the 10pm time slot, fans can expect to see things get even more scandalous on Revenge, as showrunner Sunil Nayar said the show now has "the opportunity to show you the darker colours of all the people...we can get into the more salaciously, revenge-y interpersonal stuff," reports E! Online.
Revenge Season 3 Episode 16, Disgrace, airs on 23 March at 9pm central time on ABC.