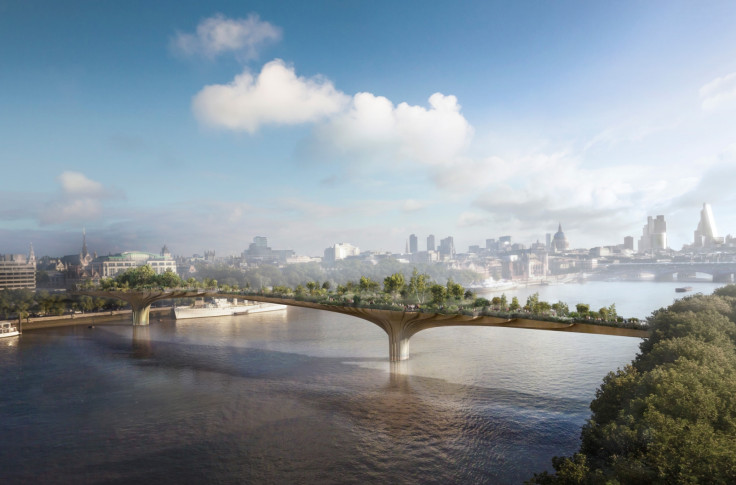 Mayor of London Sadiq Khan has announced a review into the finances of the multimillion pound Garden Bridge project announced by his predecessor Boris Johnson. Dame Margaret Hodge will examine whether the bridge is worth the estimated £60m ($79m) of taxpayer money which will go towards it, as well as the work of Transport for London (TfL) and the Greater London Authority.
The 366m bridge from Temple Tube station to the South Bank was first announced by Johnson in 2012 and is predicted to open in 2018. The Garden Bridge Trust estimates the total cost of the bridge will be £185m.
While Hodge will not ultimately decide if the bridge should be built or not, the move by Khan does not look good for its future. The mayor has never fully been behind his predecessor's idea and has already said no more public money will be pumped into it.
Khan said: "I'm clear that since the beginning of the project there hasn't been the necessary standard of transparency and openness around the Garden Bridge.
"Nearly £40m of public money has already been spent on the Garden Bridge project, and Londoners deserve far more information about the decisions that have been made around how their money is being spent.
"Margaret Hodge is hugely respected for her work scrutinising some of the UK's largest and most high-profile publicly funded bodies.
"There's no better qualified person to get to the bottom of the procurement process around the Garden Bridge, and establish whether Londoners have been getting value for money since the project began.
"I am absolutely clear that no new London taxpayers' funds should be committed to the Garden Bridge, but I'm also determined that the Garden Bridge review helps the project achieve higher standards of accountability and transparency it has so far been lacking."
Hodge added: said: "I'm delighted to accept Sadiq's offer to look in detail at some of the key decisions made so far around the Garden Bridge.
"It's not a project that I have previously had an opinion on either for or against, but given the millions of pounds of public money allocated to the project, it is clear that there needs to be far more transparency around how funds are being spent.
"The planned bridge is a major project in an iconic part of London, and there are clearly questions that remain unanswered around issues like procurement.
"From his first day in office Sadiq has been relentless in his drive to ensure Londoners get value for money, both around the Garden Bridge and other areas of major spending.
"I look forward to presenting the findings of the review, and assessing the lessons we can learn for other major projects in our city."