One person was shot and gravely wounded in Charlotte, North Carolina, during a second night of protests against the deadly police shooting of a black man – and the wildly different stories about what happened from the authorities, the victim's family and neighbours.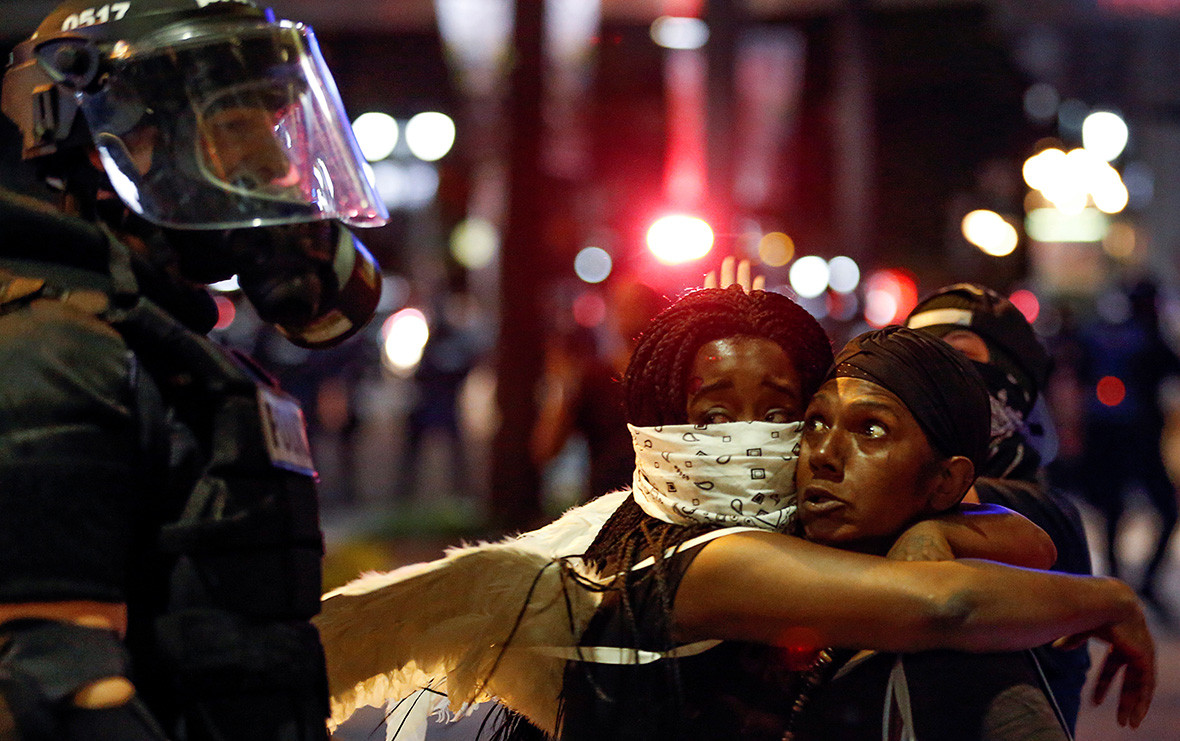 Questions remain about what happened when 43-year-old Keith Lamont Scott was shot and killed in the parking lot of his apartment complex on Tuesday (20 September). Police have not released dashboard or body camera footage, but they said Scott had a gun and refused several orders to drop his weapon. Scott's family and neighbours said he was holding a book. The city's mayor said she would view the footage on Thursday (22 September) but did not indicate if or when it would be made public.
The shooting of Keith Scott adds to a torrent of accusations over racial bias in US law enforcement and calls for greater police accountability for the killings of black people. A study by the Centre for Policing Equity shows police used force on black people at rates more than three times higher than for whites.
A peaceful rally turned violent after several hundred chanting demonstrators marched downtown with brief stops at a church, police headquarters and a large entertainment venue called the EpiCentre. As they approached Charlotte's central intersection, protesters confronted a column of patrol cars and officers in front of the Omni Charlotte Hotel and began to surround the police and their vehicles.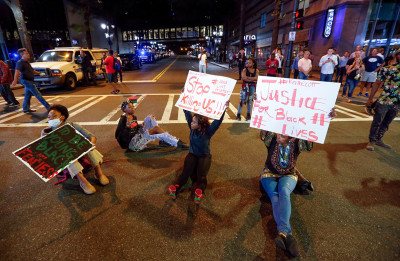 Police then unleashed volleys of rubber bullets, pepper spray, tear gas and flash-bang grenades to disperse the protesters, who began hurling fireworks and debris at officers outside the hotel. The confrontation grew more intense as a phalanx of helmeted police carrying shields advanced down a street, pushing back demonstrators who scurried for cover as officers fired more tear gas.
A man was shot and critically wounded after protesters charged police in riot gear trying to protect a hotel. City officials said police did not shoot the man. Many demonstrators didn't believe officers weren't the ones who shot the protester. "We protesting. Why the hell would we target each other?" Dino Davis said.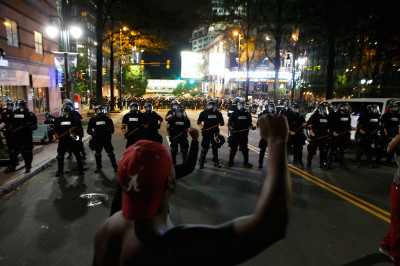 Hundreds of protesters left after police fired the flash grenades and tear gas. But several groups of a dozen or more protesters stayed behind, seemingly attacking people, including reporters, shattering windows of hotels, office buildings and restaurants and setting small fires. At one point, television news helicopters showed protesters on the highway, trying to stop cars.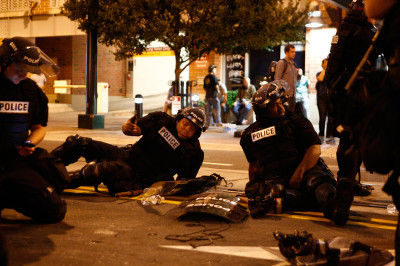 After about four hours, the violence began winding down. Hotel employees and security guards started cleaning up broken glass. But Charlotte remained on edge. Bank of America told its thousands of employees working in its 60-storey skyscraper to stay home on Thursday.
Black activists and pastors called for an economic boycott of the city, and the American Civil Liberties Union urged police to release body and dashboard camera footage of the incident. North Carolina has a law that takes effect on 1 October requiring a judge to approve releasing police video and Charlott's police chief Kerr Putney said he doesn't release video when a criminal investigation is ongoing.
However, that video may be the only thing that calms Charlotte, said John Barnett, who runs a civil rights group called True Healing Under God, or THUG. "Just telling us this is still under investigation is not good enough for the windows of the Wal-Mart," he said.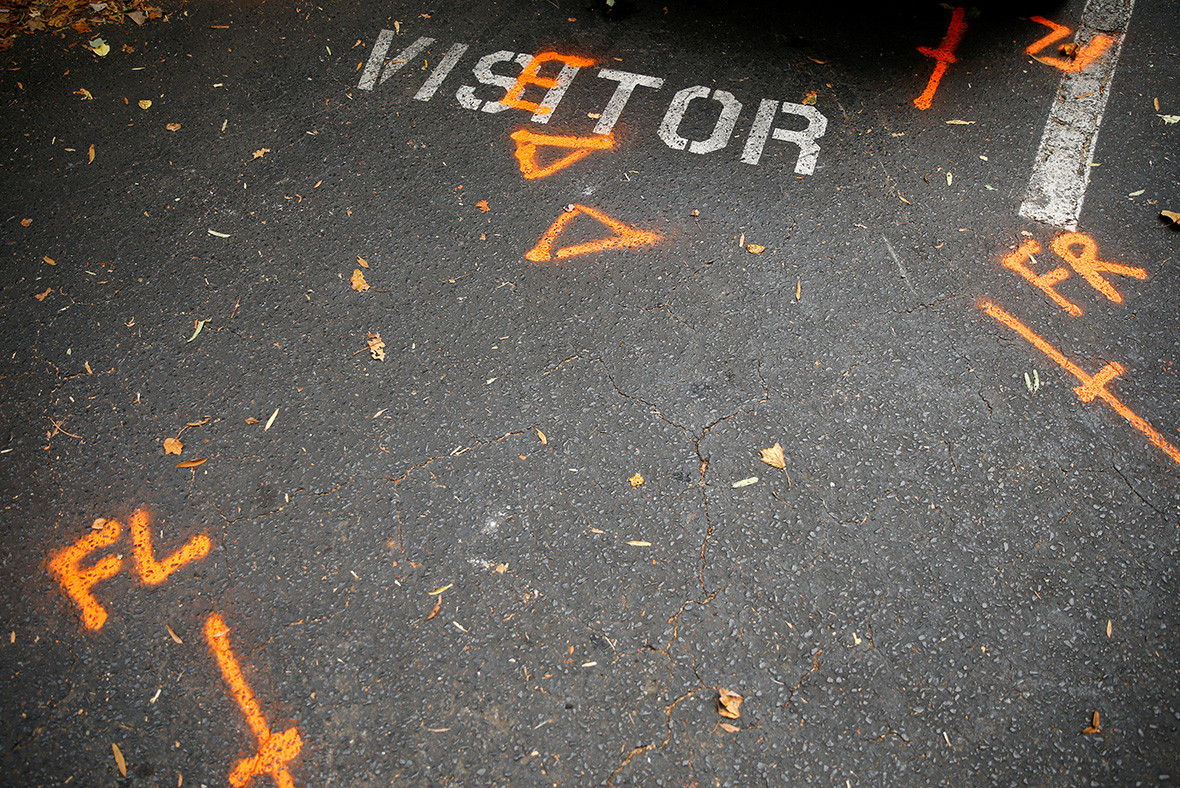 The unrest took many by surprise in Charlotte, the banking capital of the South with a population of 830,000 people, about 35 percent of them black. The city managed to pull through a racially charged shooting three years ago without the unrest that erupted in recent years in places such as Baltimore, Minnesota and Ferguson, Missouri. Police charged Randall Kerrick with voluntary manslaughter within days, but the jury at his trial couldn't reach a unanimous verdict.
North Carolina's governor declared a state of emergency amid the disturbances and said the National Guard and state Highway Patrol troopers would be sent in to help police in Charlotte restore and maintain order.